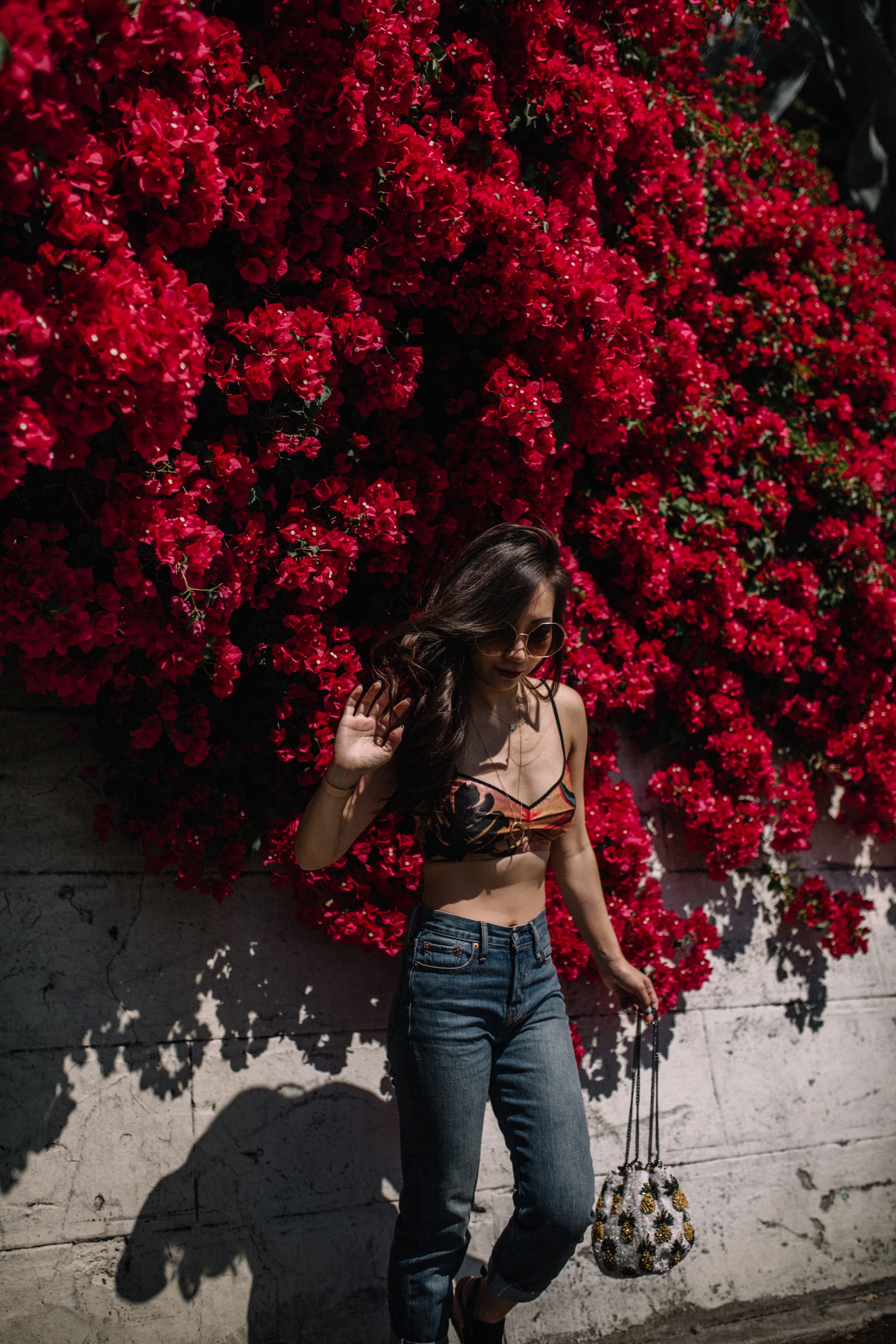 Happy Friday everyone!  Wow, it has been a good minute since I last did a blog post.  My bad!  I didn't mean to neglect my blog, but I have been busy AF this past month.  First it was my birthday, then the trip to Tulum, Mexico, and now I'm headed to Shanghai, China tomorrow for another two weeks!
Enough of my excuses.  I wanted to write this post to 1) let y'all know that I'm alive and still here, 2) post these pretty pictures that are too good to be left on just my hard drive, and 3) talk about the juggling of four part-time jobs.  Yes, I said FOUR.  I've mentioned in the past that I'm an actress, but I'm also a social media consultant, a fashion/lifestyle blogger, AND a server at a WeHo restaurant.  I know it's not as glamorous as it sounds now that I've bursted the bubble of a LA-blogger, but we all have to make ends meet.  And being a server helps me do just that…make ends meet.
So, while other bloggers who have day jobs get to go home and type up a blog post or grab a drink and chat it up at some new product launch event, I get to go from my day job(s) to my night job.  This makes social media engagements and dating quite hard because I have such little time to do everything that usually requires a full-time job dedication.
Here's how I try to time manage my life so that I can make sure I still have the time to work on Kangthropologie and keep my sanity:
HAVE YOUR "WEEKEND"
While most people would think weekends pertain to Saturdays and Sundays, my weekend starts on Sunday.  I make sure that I give myself at least two days per week to not do "work" work.  That means no consulting, no acting classes, no server shifts, nada.  (Disclaimer: obviously I make exceptions if it's an audition or a shoot since that's priority numero uno).  I make Sundays my date day and Mondays my photoshoot day.  Since I don't shoot every week, the Mondays I have off are time spent watching Netflix, Kdrama and hanging out in my PJs all day.
HAVE A "LIFE"
It's really hard to have fun and actually enjoy life when you're too busy working all four jobs from day to night, which is why I have decided to scale back on my social media posts and engagements in order to give myself time to actually enjoy what I'm blogging about.
As I just mentioned, I recently went to Tulum and had the most incredible time!  (Blog post about my Tulum trip is coming up next).  We could have gone and just shot great content all day, but then we would have missed out on the beauty and fun there is to have there.  While I normally post once a day on Instagram, I decided that I didn't want to be worrying about engagement and only posted every other day.  I'm not recommending this to any influencers out there who are taking this more seriously than I am; however, there's only 24 hours in a day and I don't have any assistance or interns for help, so something has got to give.  In this particular case, I decided to scale back on social media engagements and posts.
MAKE EVERY HOUR COUNT
For those of you out there that already have a significant other, congrats.  Kiss your man/woman and thank them for sticking by your side.  For me, it's really hard to date when you don't even have time to call your own mother.  REALLY hard.  But I try to make time by making every hour count.  Sundays are our days to hangout, but if I'm out of town or have previous plans then we only have the few hours during the week that we can talk on the phone or meet up for a drink.  If your love life is a priority, then make sure you make time for it.
DON'T TAKE IT TOO SERIOUSLY
I know I say this too lightly and could offend a lot of bloggers, brands, and content creators out there that do this full-time, but, don't take social media too seriously.  It's a great creative outlet, and people can make some serious dough doing this well.  But know that this is all digital and stored up in cyberspace.  Your life should not be fully dependent on how many likes, followers and views you get.  Yes, work hard, build relationships with brands, and create beautiful, original content, but please make sure you stop and smell the flowers while you're doing it.  Have a drink (or two) at that social media industry event, but be sure to meet some great people and don't make it all about posting that perfect selfie.
I'll be MIA again for the next couple of weeks due to internet restrictions in China, but I'll be sure to sneak onto VPN here and there and post some fabulous pics.  My next post will be talking about what to really expect when you travel to Tulum, Mexico.  Have a great Memorial Weekend everyone!
Top: ZARA / Denim: Levi's / Sunglasses: My own (similar look) / Shoes: EMU Australia / Bag: ZARA / Watch: Daniel Wellington / Crescent Necklace: Gorjana / Necklace: Gorjana
Photographed by Mire Yang