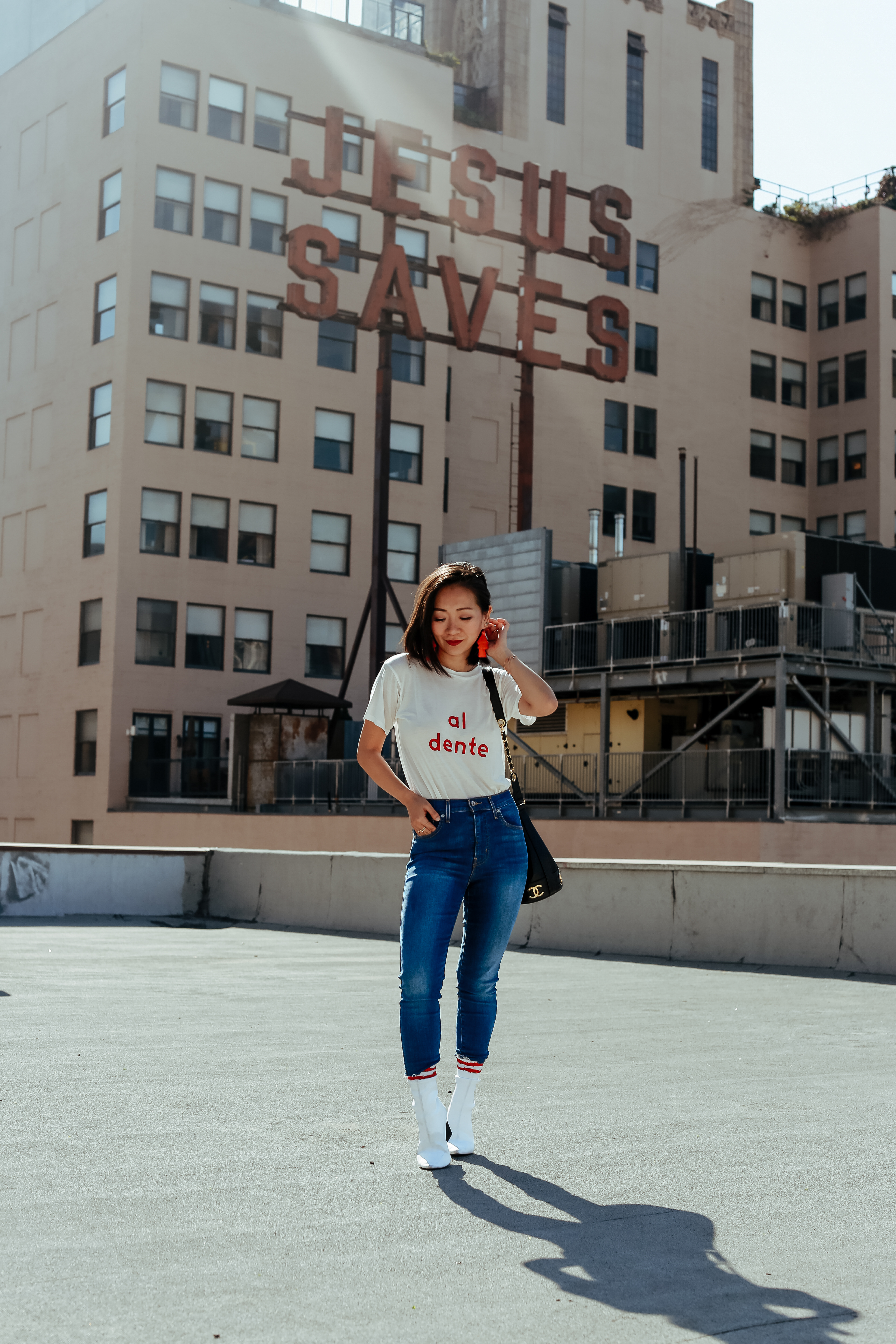 Hello.  My name is Linda, and I'm a carboholic.  The first step to fighting addiction is to admit that you have a problem.  The only thing is that I'm not sure this is an addiction I want to let go.  I grew up eating white rice, noodles, and everything starch.  Telling me to give up any of these carbs is basically telling me to kill myself.  Okay, maybe I'm being a bit overdramatic, but carbohydrate is my best friend.
  Rather than fighting what is delicious and tasty, I've decided to embrace carbs and just come to accept the permanent belly pooch that I'll always have.  There are a few places in LA that I flock to when I need my carb fix, so here are my favorite carb dishes (ALL VEGETARIAN) and where to find them:
SPAGHETTINI POMODORO
This is such a simple Italian dish to make at home, but I crave the one made at Jones in West Hollywood.  The pomodoro sauce is perfectly acidic with fresh tomatoes, and the spaghettini is cooked al dente.  (I'm salivating right now).  It's a $15 pasta dish that you'll go back for over and over.
SPICY FUSILLI
Occasionally I go to Jon and Vinny's website just to see if I can make a dinner reservation for a party of 4 at a decent hour.  The 8pm-ish reservations don't pop up until 3-4 weeks out, so I'll book it just to have it and find friends to join me later.  I discovered Jon and Vinny's only a few months ago and have dreams about their food, especially their Spicy Vodka Fusilli.  It's around $20 and it's delicious AF!  Everything else there is just as amazing, but if you have to get only one dish, I would recommend the Spicy Fusilli.
VEGGIE RAMEN
There are two places that I go to for my veggie ramen cravings, and that's JINYA Ramen Bar and Slurpin' Ramen Bar.  I'm sure those who eat meat can probably name 20 other ramen restaurants in the LA area that are better than the two I just named (i.e. Tsujita, Tatsu); however, I'm talking strictly veggie ramen, and these places make some killer veggie broth.
I prefer JINYA's Vegetable Soup Ramen over their Spicy Creamy Vegan Ramen.  They're both great, and I was getting the Spicy Creamy Vegan Ramen for a while, but decided to order the Vegetable Soup Ramen the last time I dined there and realized it's more flavorful.  The noodles are amazing, and if I had a bigger stomach I would order an extra serving of noodles to go with my broth.
VEGGIE PHO
I probably order take out from here at least once a week.  No joke.  Absolutely Phobulous doesn't have the best ratings on yelp (due to poor service), but I've had my share of veggie pho in the West Hollywood area and they are by far the most flavorful and under $10.  I know a lot of the hip pho restaurants that offer vegetarian pho like to claim that their broth doesn't contain any MSG, but sweetheart, that's the best part.  I don't drink the leftover soup, but damn, does that bowl of pho taste better with a dash of MSG.  If you want the healthy stuff, (please watch the Fried Rice episode of Ugly Delicious on Netflix to educate yourself on MSG myths), then I recommend Pho Saigon Pearl off Fairfax, (their vegetarian pho often sells out).  However, if you're not a MSG hater, then go for the Vegetarian Pho at Absolutely Phobulous.
MUSHROOM PIZZA
You can call it flatbread.  You can call it pizza.  You can call it whatever, but the Double Mushroom Coca at Baco Mercat in DTLA has got to be one of the best mushroom flatbread/pizza I've ever had.  And I say this having tried the Funghi Misti at Pizzeria Mozza.  Wait.  Who am I kidding??  Both places are great!  I guess if you're closer to WeHo, can squeeze yourself in on their reservations list and have $20 to spend on a fancy pizza, then go to Pizzeria Mozza.  But if you're in DTLA, you know where you need to go.
VEGGIE BURRITO
This LA food list would not be complete without a taco truck.  And we're not talking about any regular taco trucks here.  We're talking about THE taco truck that has over 1100+ reviews and a 4.5 stars rating: El Chato.  Because I use to live right around the corner from where they park their truck, I had to just crawl out of bed at 9pm and walk less than 50 yards to get my veggie burrito fix.
For $6, you can get your hands on a veggie burrito filled with rice, beans, and veggies.  Their popularity makes getting your food quickly almost non-existent unless you're the first person in line when they open.  With that said, there's usually a line, and you could wait up to 25 mins before you get your food.  In the end, it's worth the wait.  Be sure to get extra salsa verde.  It's spicy in all the right ways.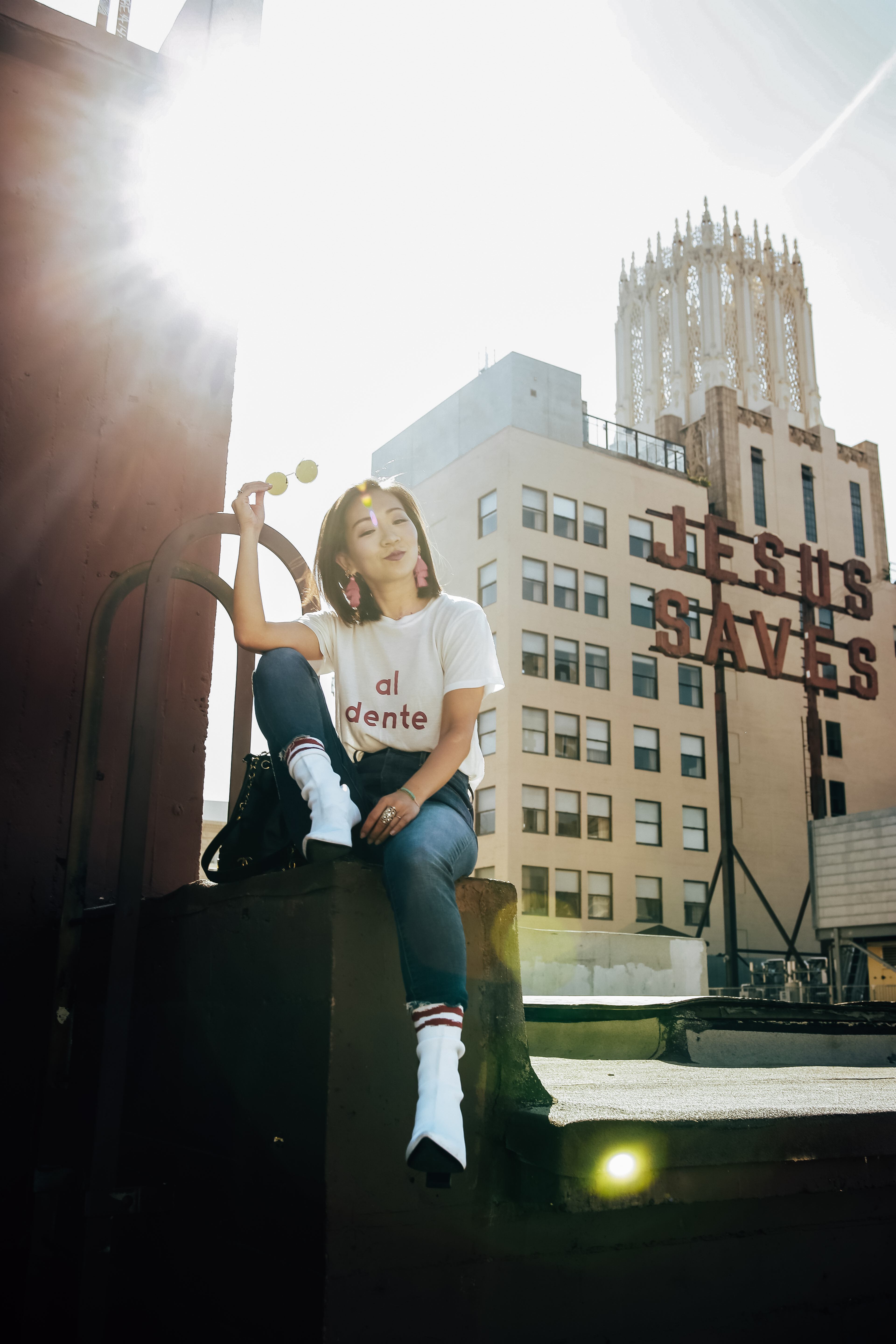 Now that I have disclosed all my favorite carb dishes, you would think that I am just a giant glob of rice and noodles, (which is not entirely untrue).  As I disclaimer, I do workout regularly and try to balance my carb-centric diet with a lot of high fiber greens and vegetables.  It's all about the yin and yang of life.
If you're looking for a carb loaded good time, be sure to check out the ridiculous delicious dishes and associated restaurants I l listed above.  Have a happy Tuesday everyone!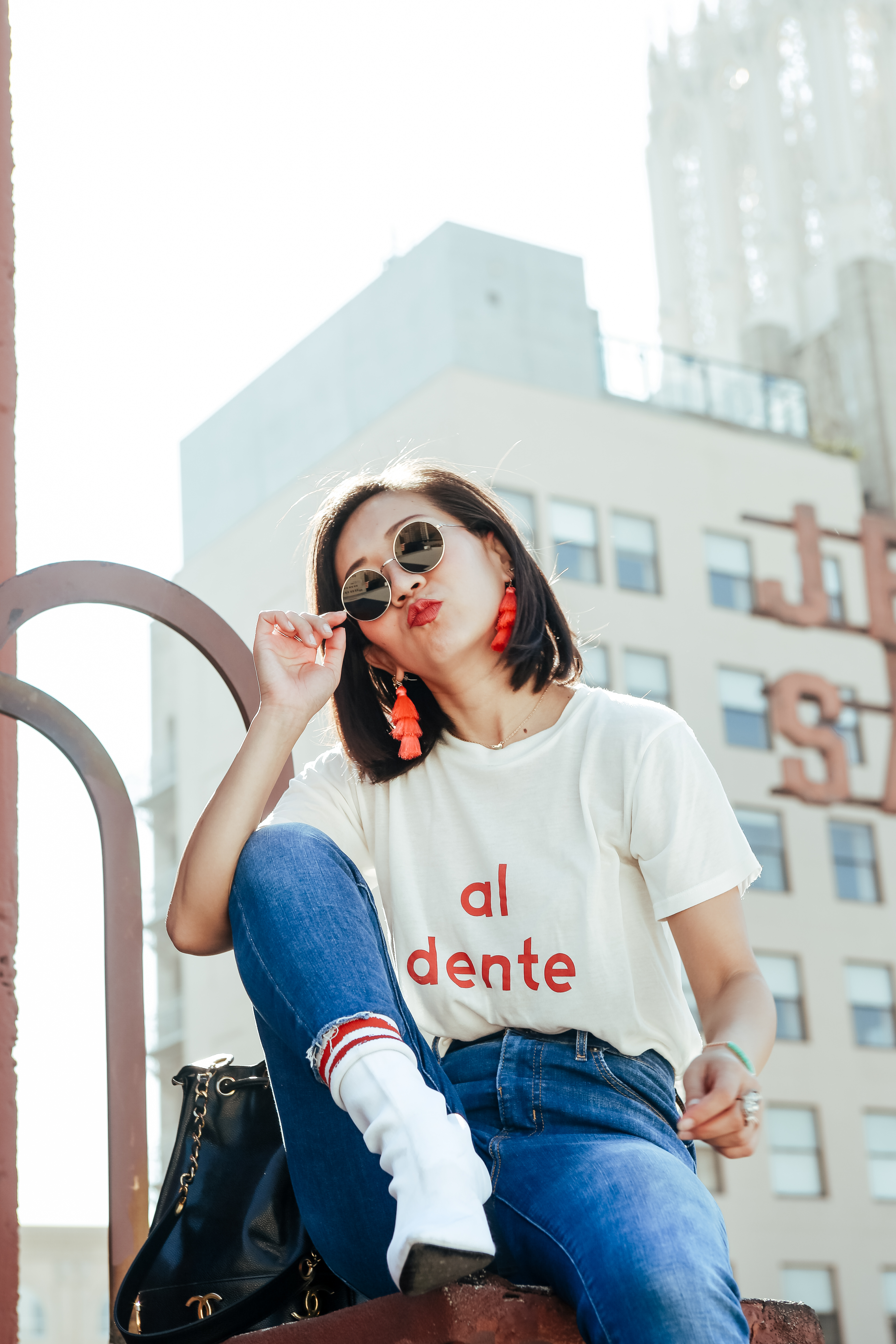 Top: Reformation / Jeans: Levi's / Earrings: Sugarfix by BaubleBar / Boots: ZARA (sold out | similar look) / Sunnies: Illesteva / Bag: Vintage Chanel (similar look) / Bracelet: Monica Vinader / Ring: Free People
Photographed by Stefanie Meier