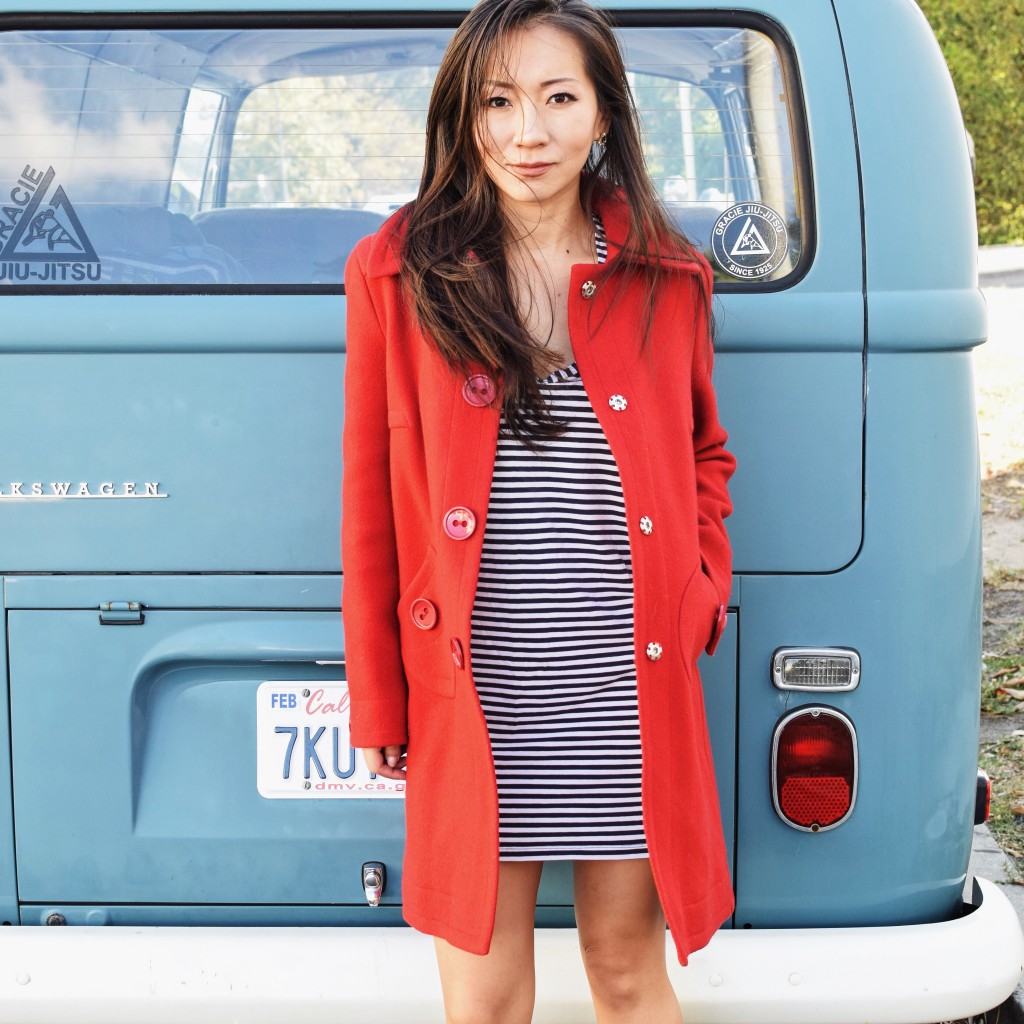 Last night it actually rained in Los Angeles, which brought in this perfect cold chill that made me smile.  Nothing like a little change in temperature to our unwavering sunny weather, and nothing like a little pop of color to add into our monochrome black and white wardrobe.  
I found this bright red Marc by Marc Jacobs Big Button Princess Peacoat a very, very long time ago at Neiman Marcus, and knew that I just had to buy it even if it meant going in debt for six months afterwards.  I have taken really great care of it and it has maintained it's brilliancy and bold color.  I have a love for outerwear, and my friends are always confused as to why I purchase so many coats and jackets while living in LA.  And my only response is that I can wear it out that one time a year when it gets chilly and look fabulous.  Here are some similar looks:
GUESS Double-Breasted Pleasted Peacoat in Rouge (on sale at Macy's)
Via Spiga Double-Breasted Flare Peacoat in Red (on sale at Macy's)
MICHAEL Michael Kors Double-Breasted Peacoat in True Red (on sale at Macy's)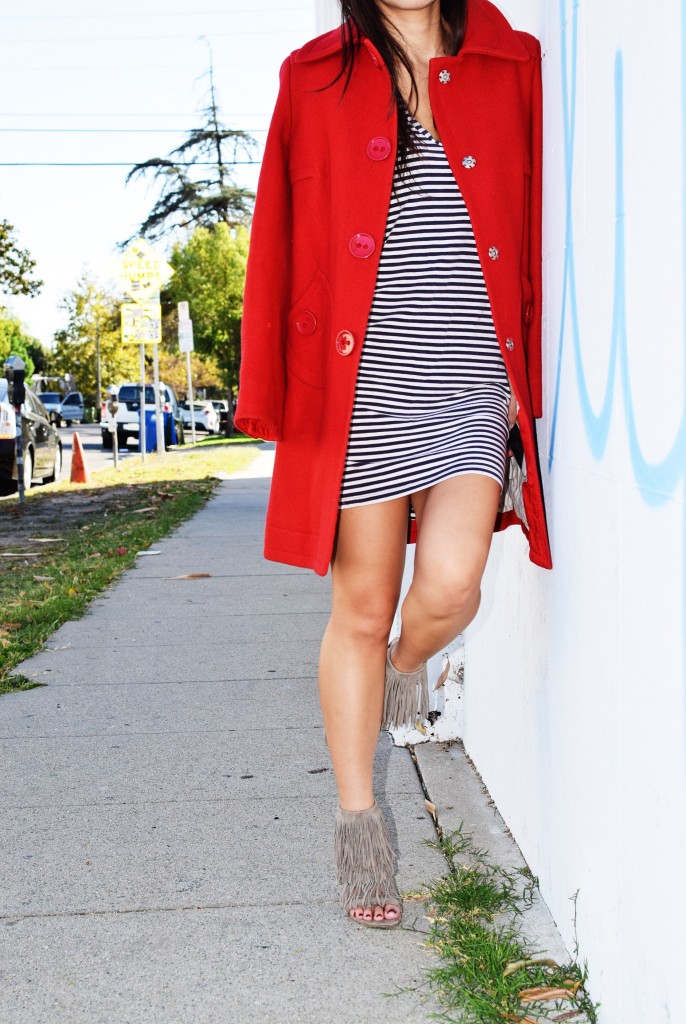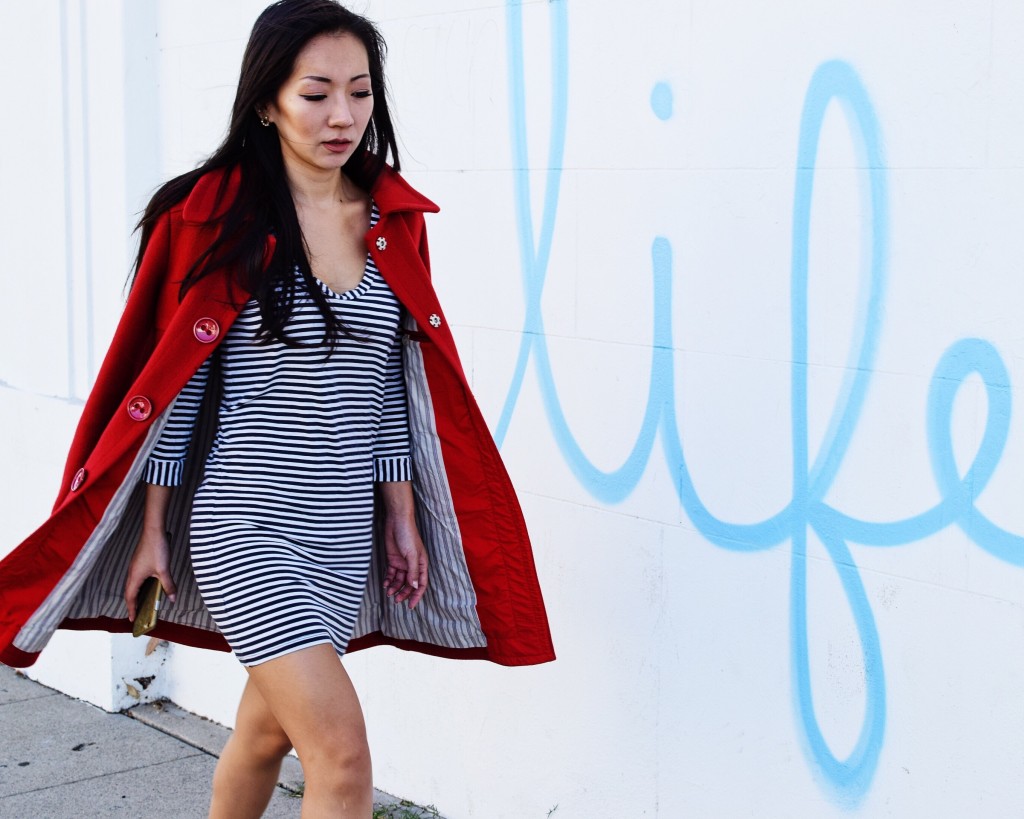 I am wearing a French Connection 3/4 Sleeve Striped Dress to offset the prissiness of the peacoat.  This is not a bodycon dress, and that is precisely the reason why I call this my go-to dress.  I purchased this dress one size up so that I can wear it loose and comfy, (FCUK is known to run small, so I would even consider going up two sizes if you're unsure of the fit).  It still shows off curves where it needs to when you move, but you don't have to wear a corset to get into this dress.  It's my kind of sexy, casual-chic.  Here are some similar styles:
French Connection Starzy Stripe Long Sleeve Dress (on sale)
French Connection French Stripe Cotton Dress (on sale)
French Connection French Stripe Dress (on sale)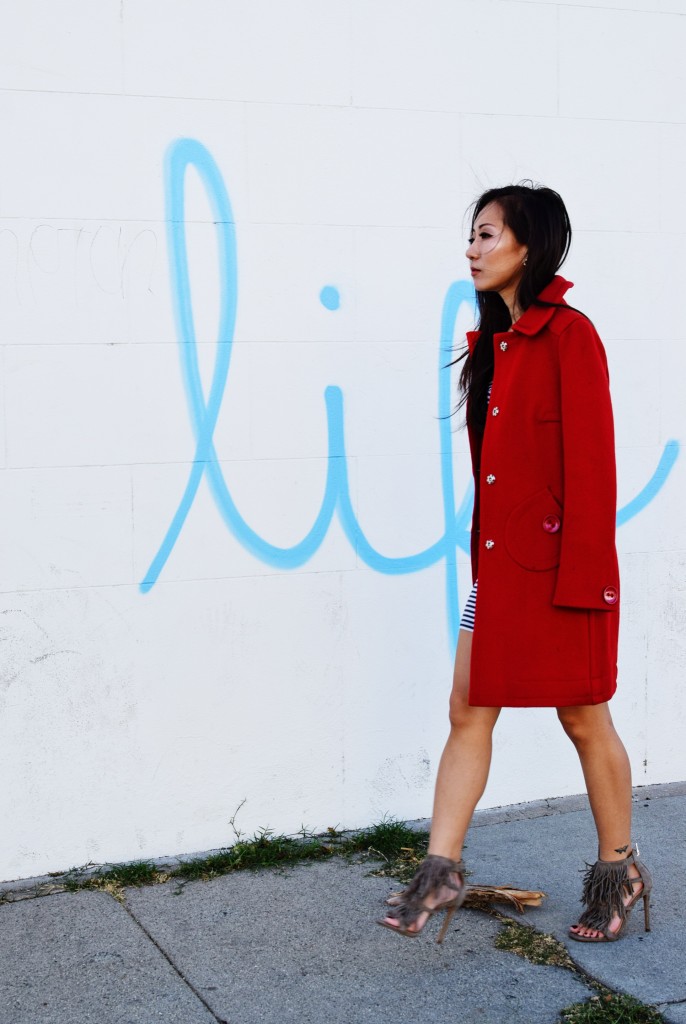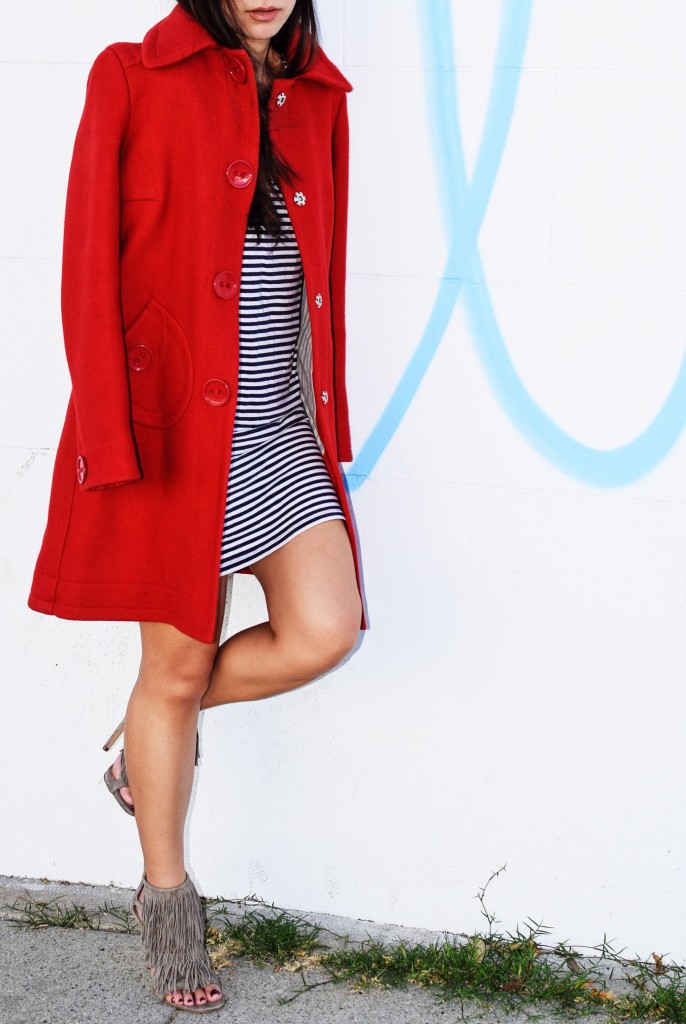 And finally, we have the shoes.  These fringe style sandals have been popping up everywhere since the middle of summer and now I finally have a pair.  I threw this pair of heels into the look because it brings trend and sexiness to a very All-American look.  These Steve Madden Fringly Suede High-Heel Sandals in Beige are currently on sale.  I purchased them from Lord & Taylor during their Friends and Family Sale event three weeks ago and got it for $70.  They're comfy and super cute.  It's a bit hard to put on at first because the opening at the top is stiff and small, (even with it unzipped), but once your foot slips in it's super fabulous.  I don't ever spend too much on fashion items that are too trendy.  The look will go out of style by next season and I'll have to store them away for a few years before they become vintage or stylish to wear again.  Here are similar styles:
Steve Madden Staarz Ankle Fringe Sandal in Taupe Suede (on sale at Nordstrom Rack)
LuLu's Any Excursion Tan Suede Fringe Dress Sandals in Tan
I truly loved my hair and fall makeup.  Please check out Felicia's page to get the details!  Are there any special makeup looks that you really want to see?  Let me know and I can put that request in!  Thanks for reading!
J.Crew Earrings (sold out | similar look on sale)
Photographed by Felicia Bade
Hair and Makeup by Felicia Bade