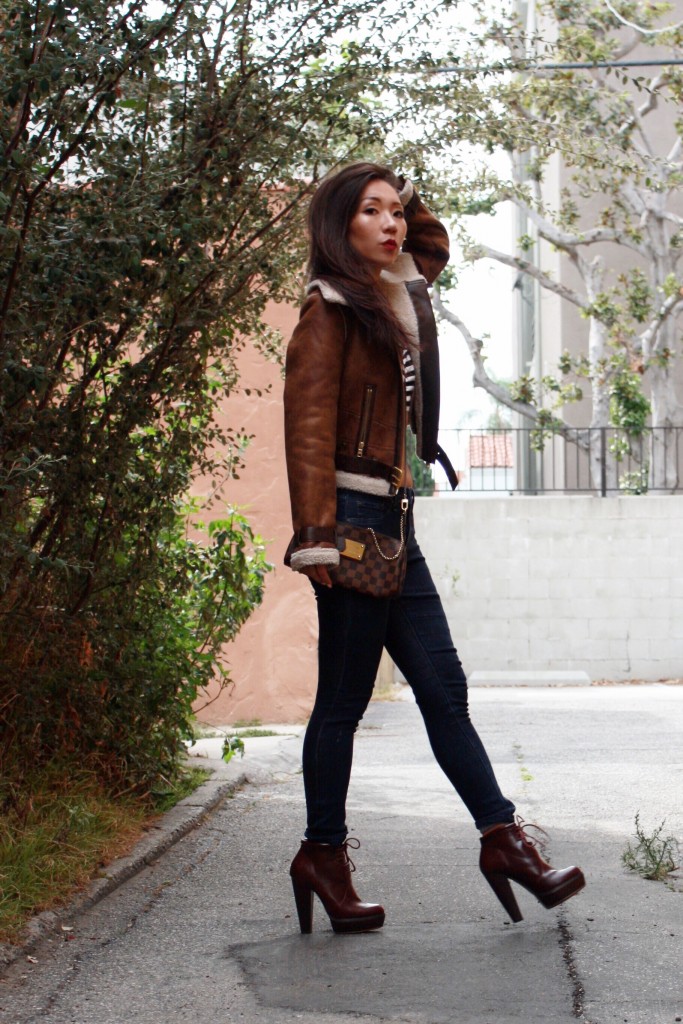 So, Fall is taking her sweet booty time to get to LA.  She told me she was on her way three days ago, but I think she's still deciding on what to wear.  I made an executive decision to pregame while I wait for her and dressed warmly in an A|X faux shearling bomber, ZARA striped crop top, rag & bone/JEAN The Legging Jeans, and Forever 21 Red Modernist Platform Booties.  In 90 degrees LA you ask?  Yes.  I was sweating profusely while I shot these photos, but it was well worth it because it got me very excited for Fall's arrival.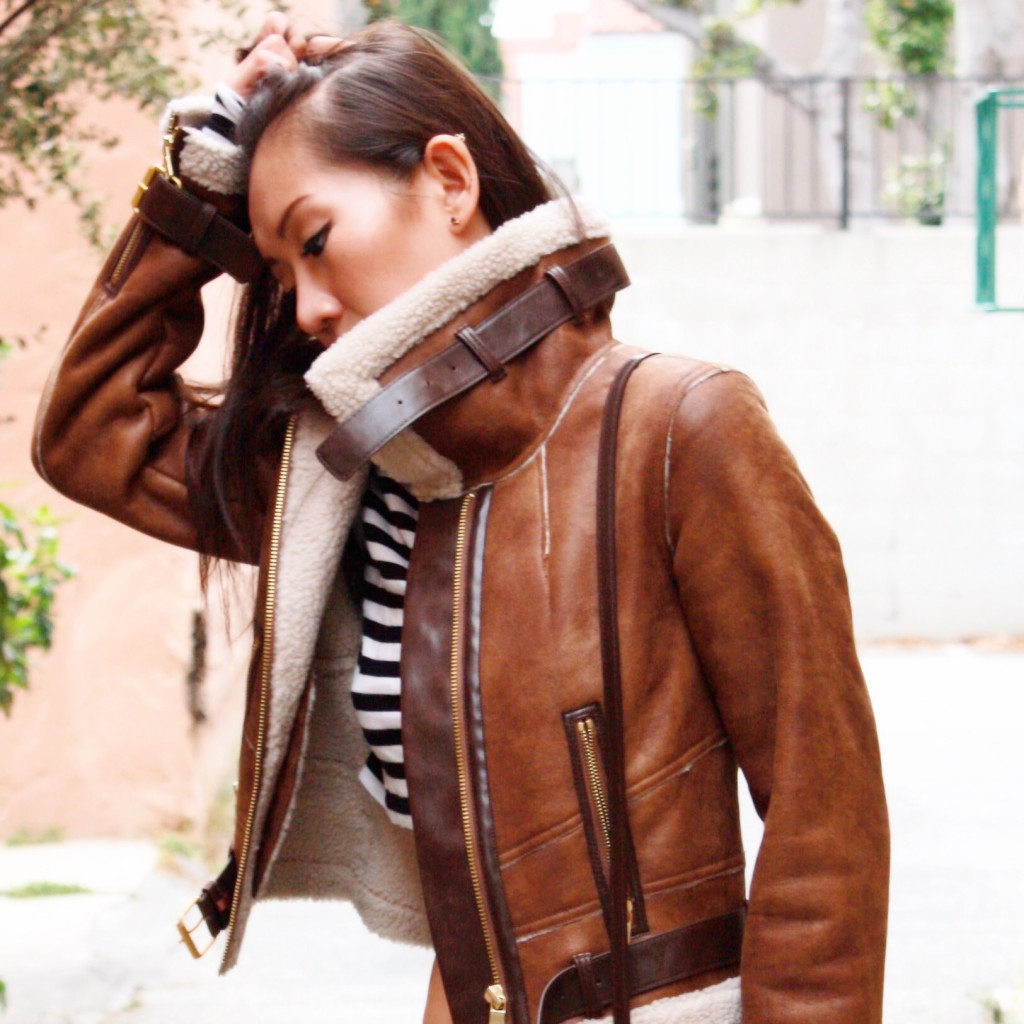 Similar looks to this faux shearling bomber:
Forever 21 Faux Shearling Bomber Jacket in Taupe
Jou Jou Faux-Leather Bomber Jacket in Brown (on sale at Macy's)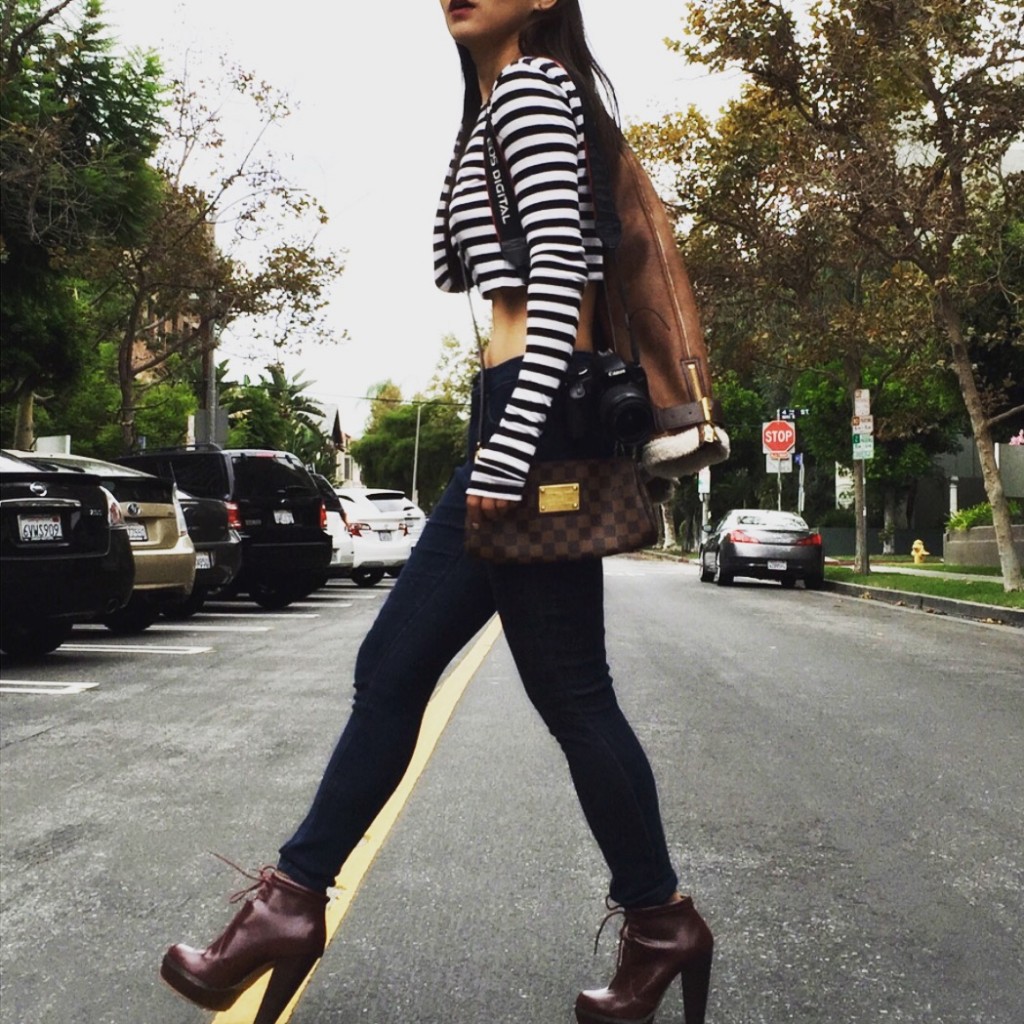 You must be wondering, does this girl ever wear a normal shirt or does she only own crop tops, right?  I was thinking the same thing when I put this outfit together.  However, because it never gets that cold in LA, a crop top makes this outfit more bearable to wear when inside.  But for everyone else who doesn't have the need to wear crop tops, here are some alternatives:
Similar Looks (Non-Crop)
Gap Modern Stripe Boatneck Tee in Dark Night (on sale)
T by Alexander Wang Striped Linen Cotton Long Sleeve Tee
Bassike Striped Long Sleeve T-Shirt (at Farfetch)
J.Crew Factory Long Sleeve Striped Boatneck Tee in Oat Navy Spring
Similar Looks (Cropped)
ASOS Crop Top In Turtleneck With Stripe and Long Sleeve
Noisy May Stripe Batwing Top With 3/4 Sleeve (at ASOS)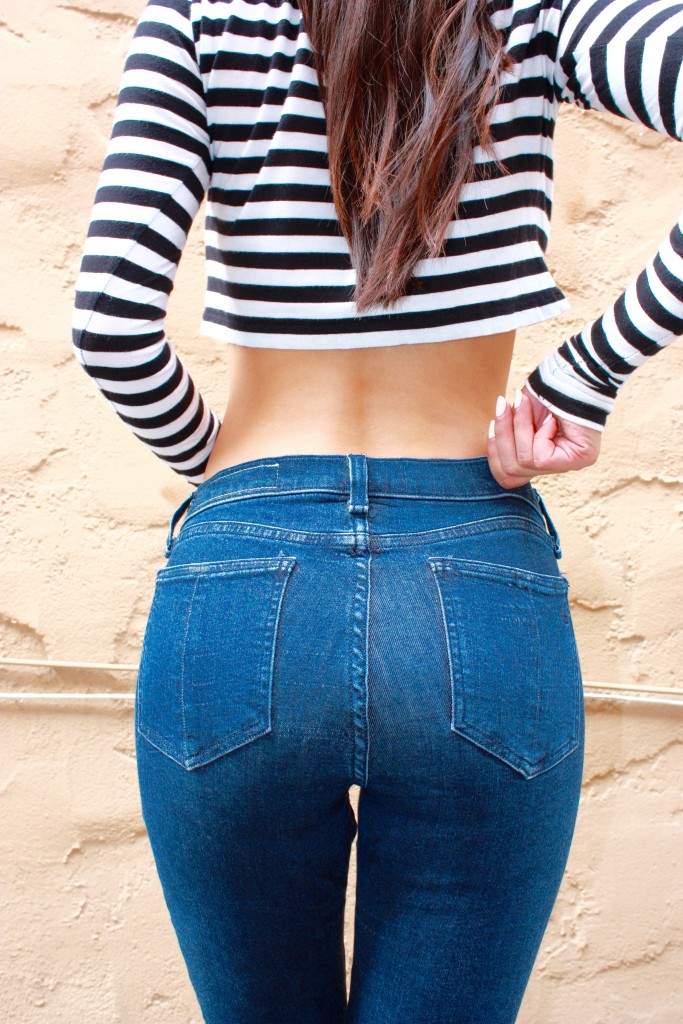 These rag & bone /JEAN Legging Jeans were purchased a few years ago from Barneys New York Warehouse.  This is one of my favorite pairs of jeans because they are really stretchy.  They are flattering on both stick and curvy figures.  Even though I've worn them a hundred times over the years, they still haven't lost their stretch.  Quality is quality my friends.  Worth the extra cost.  I am wearing a size 27 in the Legging Jeans.  The particular color I'm wearing is currently unavailable, but rag & bone/JEAN has several other skinny stretch styles that are similar to the ones I am seen wearing:
rag & bone/JEAN Skinny Stretch Jeans – Woodford (at Nordstrom)
rag & bone/JEAN Skinny Stretch Jeans – Kensington (at Nordstrom)
rag & bone/JEAN Skinny Stretch Jeans – Bedford (at Nordstrom)
rag & bone/JEAN Legging in Midnight
rag & bone/JEAN The Legging Jeans in Night (at Shopbop)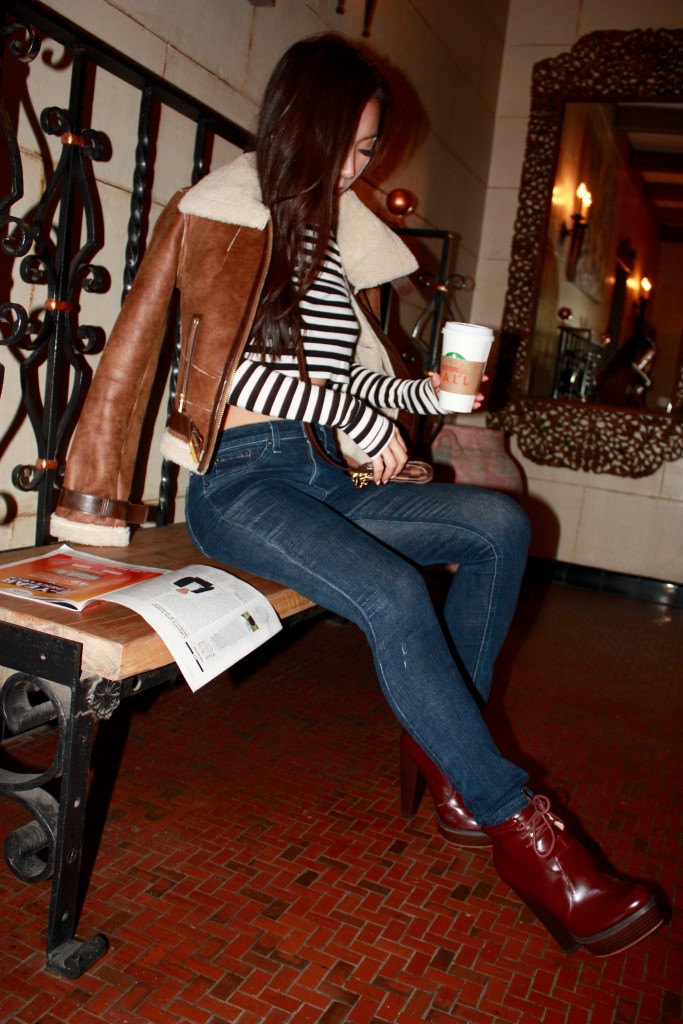 The winner of this outfit is clearly the pair of platform booties.  First, they are from Forever 21.  Second, they were less than $30 when I purchased them.  Third, they are super comfortable.  Fourth, they look AMAZEBALLS, (I'm so not on point with the lingo these days).  I have them in both black and burgundy.  Sorry ladies, these were purchased last year, but here are similar looks:
Steve Madden Raspy Platform Boot
Riot Girl Lug Sole Platform Boots in Claret
Forever21 Faux Leather Platform Booties in Chestnut
Forever21 Faux Suede Lace-Up Booties in Tan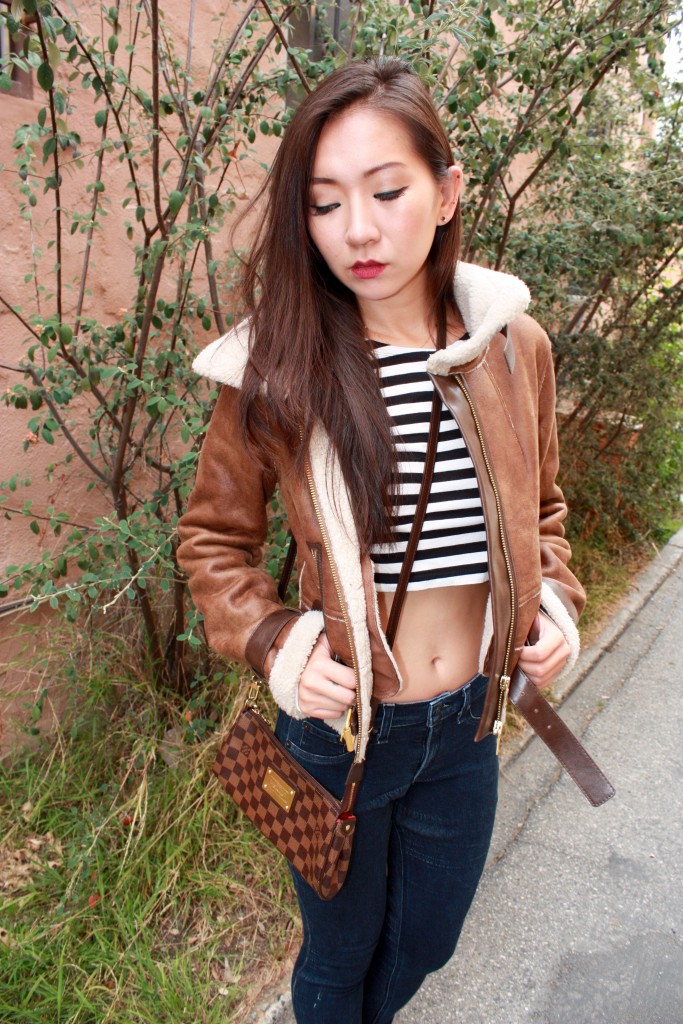 Would love to know what your thoughts are on faux shearling, leather and/or suede.  Like them?  Don't like them?  Let me know!
Louis Vuitton Eva Clutch (worn as a cross-body bag) / Gorjana CZ Helena Stud Earrings (sold out)
Photographed by Felicia Bade
Hair and Makeup by Felicia Bade