I feel like I have been blogging about a lot of cool casual or trendy outfits, but have yet to touch base with the classy lady that's inside of me.  I go out for a lot of auditions that require me to look more sophisticated and put together, which is probably why I've strayed away from it in my real life.  However, I love putting this outfit together.  It's something I would wear going out on a date or grab a night cap with my girlfriends.  I feel very sexy and stylish in this fall outfit.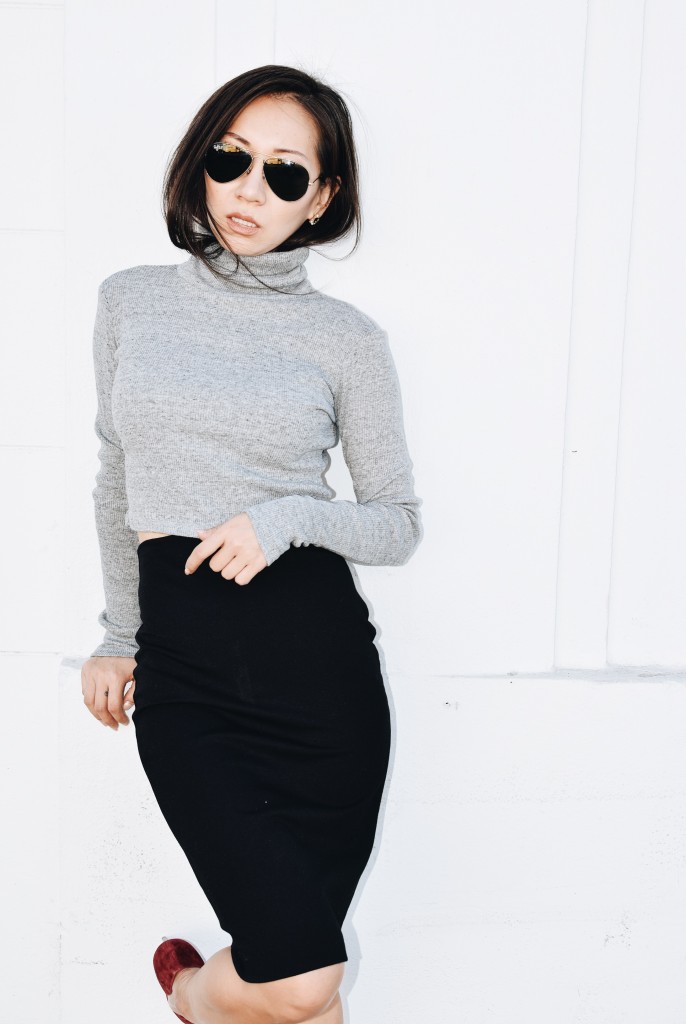 Every female needs a pencil skirt.  It doesn't matter what your size, shape or religion is, trust me, you can pull off a pencil skirt.  The purpose of a pencil skirt is to flatter the curve of a female figure.  Now I know some of you are saying, but I don't have any curves or I have too much curve.  Whichever the case, this skirt, with the appropriate stretch and fabric, can help accentuate what your have or don't have.
This is an Amanda Uprichard Ponte Pencil Skirt that I got on super sale from Neiman Marcus a couple of years ago.  I have grown to really like the stuff from Amanda Uprichard.  It's fine quality and they're well priced, especially when they're on sale.  This style in the color black is sold out, but Revolve currently has it available in the colors Bittersweet and Ivory.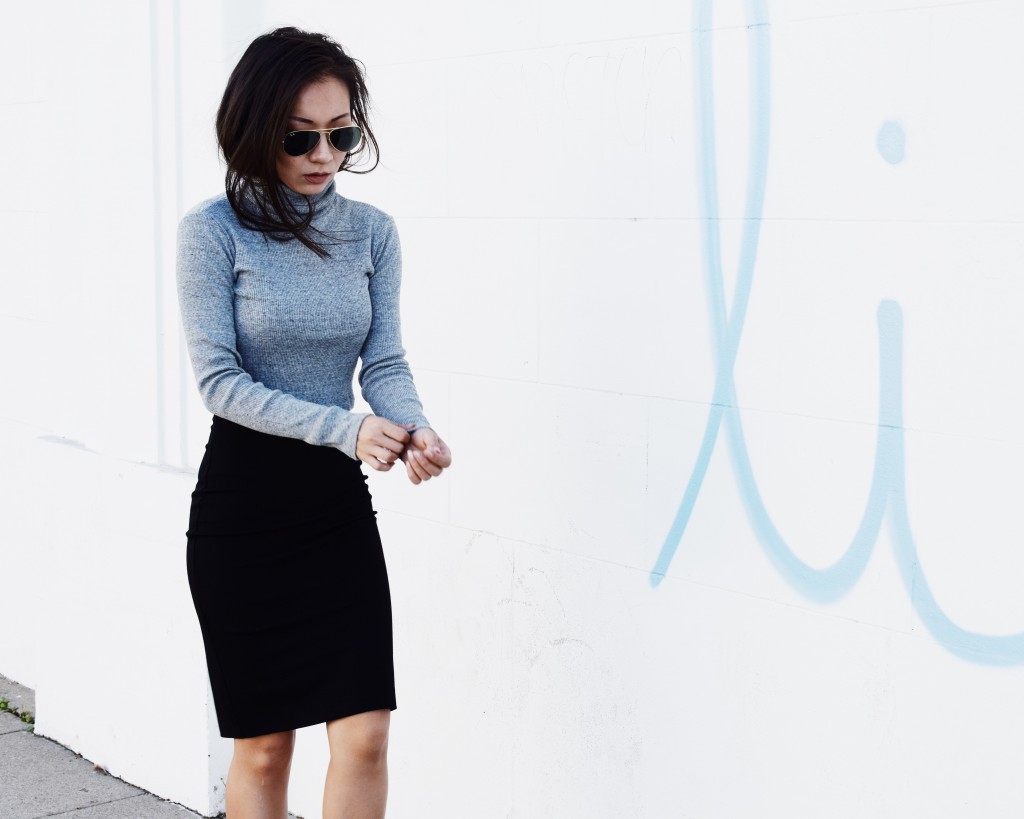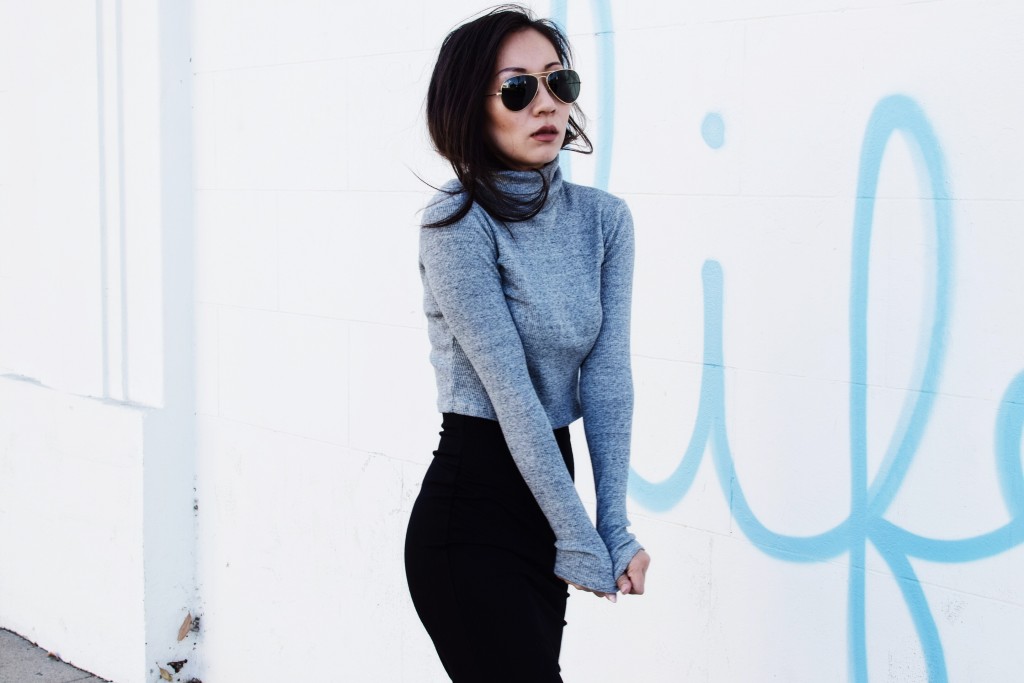 I purchased this Zara Cropped Turtleneck two years ago.  It has been cold and windy in LA and this top is PERFECT for this weather.  Because my pencil skirt is work high-waisted, my cropped turtleneck cuts off perfectly at the waist, which lengthens the look of my legs.  If the top was any higher though it wouldn't look as classy, and if it was any lower I would be hiding the smallest part of my curve.  Here are some similar looks:
UO Kimchi Blue Lace Trim Cropped Sweater in Black and White (on sale)
UO Kimchi Blue Cozy Mock Neck Sweater
UO Silence + Noise Cassie Turtleneck Sweater
UNIF x UO Fine Gauge Cropped Sweater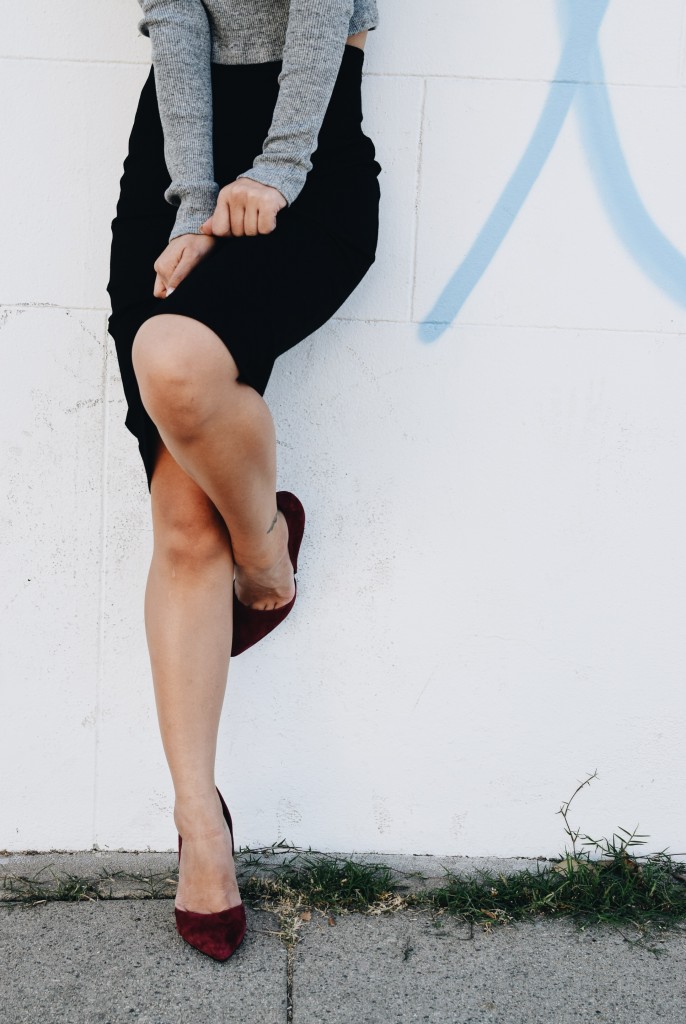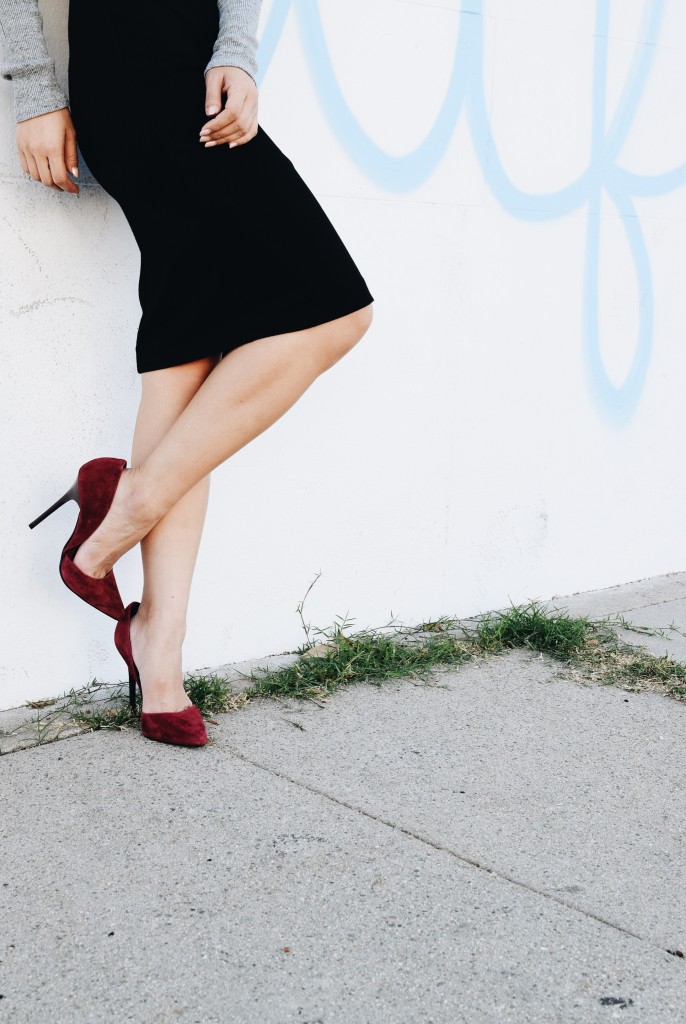 These are my favorite heels right now.  I just got these Steve Madden Varsity Stilettos in Wine Suede on sale at Lord & Taylors for under $50.  They are on sale again with an additional 20% off from now until Nov. 11 (see SALES for me details).  I have been blogging about my love for burgundy this fall, and now I have it in the form of these fabulous heels.  You will definitely be seeing me with these sexy heels on throughout this fall.  Here's a similar look.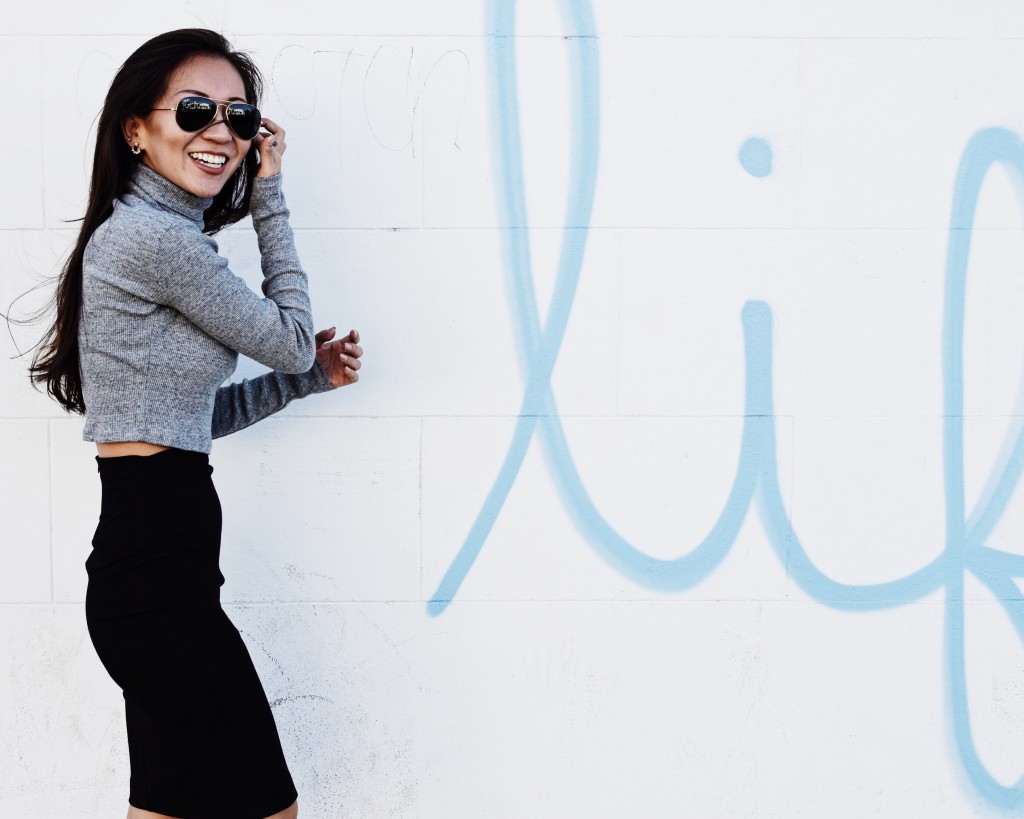 I seriously considered chopping off my hair after the photoshoot of this outfit.  I'm still considering it, but I know my agents will be upset if I don't have headshots to match my new hair ASAP.  Cutting/coloring hair is a bit more costly when you're an aspiring actress because of all the things that come with changing your "look".  Long hair makes you more youthful, but an edgy bob will make you more sophisticated and chic.  A woman.  A lady in the street.  I definitely love this look enough to bring it up with them the next time I see them.  What do y'all think?  Should I chop off my hair??  Leave a comment below and and let me know!
J.Crew Earrings (sold out | similar look on sale) / Ray-Ban Aviator Classic Sunglasses
Photographed by Felicia Bade
Hair and Makeup by Felicia Bade