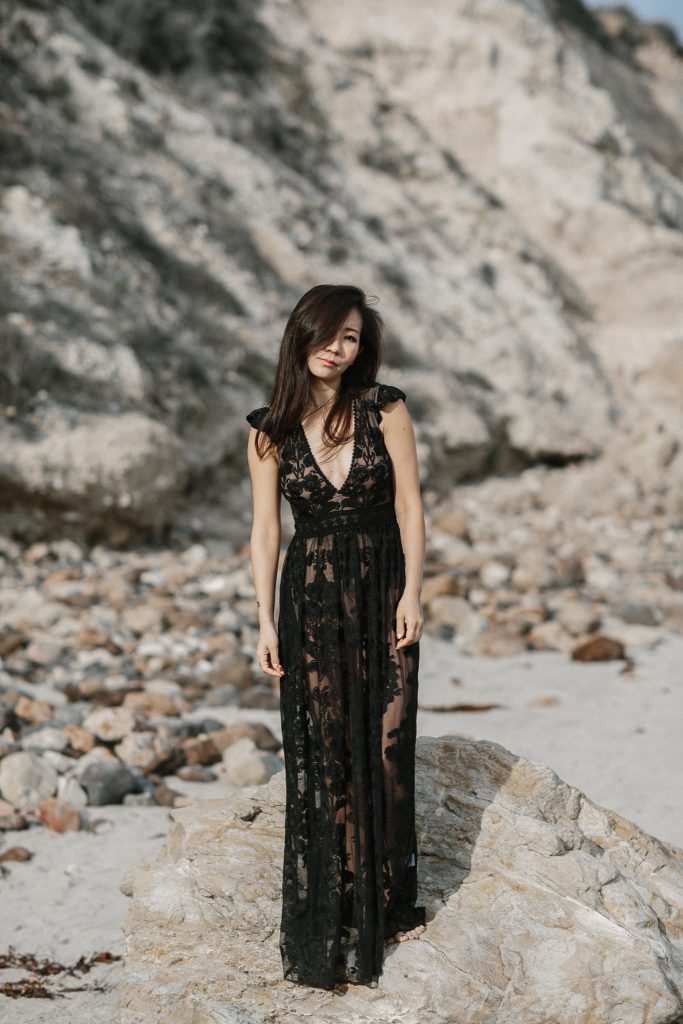 So here we are folks.  Just two days away from 2017.  I decided to blog today versus tomorrow, which is the last day of the year, because no one is going to be reading a silly fashion blog post on NYE (#TRUTH).  No worries, I'm not going to talk about self-reflection and new year's resolutions.  Screw that.  I'm going to talk about my favorite things that have made 2016 memorable, specifically the fashion trends, the new beauty products I've tried, and the new friends I've met along the way via blogging.  So here goes…
favorite trends
There have been so many trends this year that were worn to the point of disgust, and others that I feel like will continue on towards 2017.
I really dug the choker 90's look that were brought back to life, (thank you Rumi!).  Though her fashion label, AreYouAmI, is hella expensive, she is a pioneer for sexy, provocative and fashion-forward styles.  Not sure I can (EVER) bite the bullet on purchasing one of her $600+ slip dresses, but I'll be looking to her for the next sexy trend.
Another big hitter for me are the clear frame glasses.  I see these bad boys on some of the quirkiest and hippest fashion bloggers (i.e. @officiallyquigley) and I think they're just fucking adorable.  I personally own two pairs from TIJN: The Mathias and The Marcel, and they just bring an extra quirk to my outfits.  I've also worn them to auditions to play nerds and hipsters and they've done really well for my "method" look.  Haha!
My final favorite trend would be high-waist denim, regardless of the hemline.  I hear it's suppose to be out by 2017, (please say it ain't so!), but I'm keeping my fingers crossed that it sticks around for just a little while longer.  Please do not encourage me to purchase ANY MORE denim!
favorite new makeup products
I've been an avid fan and user of La Mer Crème de la Mer Moisturizing Cream for 10+ years.  I push and recommend it to ALL of my friends.  Technically, I'm quite surprised/upset that I wasn't selected to participate in their latest social media promotion.  Whatever.  I still love this stuff like it's crack.  However, due to the steep price of $310 for a 3 oz. jar, I have side tracked from using it in my nightly routine and have instead picked up a jar of Shiseido Bio-Performance Advanced Super Restoring Cream.  This is my new favorite night cream, …under $300.  Haha!  No seriously, I've been using it for the past year and it has helped me maintain my youthful skin.  This has a rich formula that is not greasy like La Mer, even though I do miss that oily glow I get after applying it on.  Shiseido absorbs very easily into my skin.  Trust me, I'm not being sponsored by either brands to write this, so it's worth trying it out.
I think I found my new concealer, and that title goes to Glossier Stretch Concealer!  This stuff is phenomenal.  I've been using Becca Ultimate Coverage Concealing Crème as well as YSL Touche Éclat for the past 4 years.  Both work great, but one is too heavy of a coverage at times and one is too light of a coverage at times.  Glossier Stretch Concealer is like the baby that the two produced.  It's just perfect: creamy, light, blends well, highlights and covers.  I purchased the lightest shade because I tend to like concealers that are a shade lighter than my actual skin.  For $18, this is one of the best medium coverage concealers out there.
favorite take-aways
I started blogging a little over a year ago, but didn't really get into the blogger scene until this year.  Along the way I have met some new bloggers and photographers, and I would like to take this time to thank them for being kickass people.  Please check them out because they all create magical content:
Amy – @TheLuxiLook
Mire – @Stripescollide
Hanna – @_hannaphotography_
 For Love and Lemons Violetta Dress / TribeTats Onyx Goddess Temporary Tattoos
Happy New Year everyone!  Please drink responsibly because you know you're going to get blitzed, and make sure you find a cutie to kiss at midnight! xoxo!
Photographed by Hanna Snyder