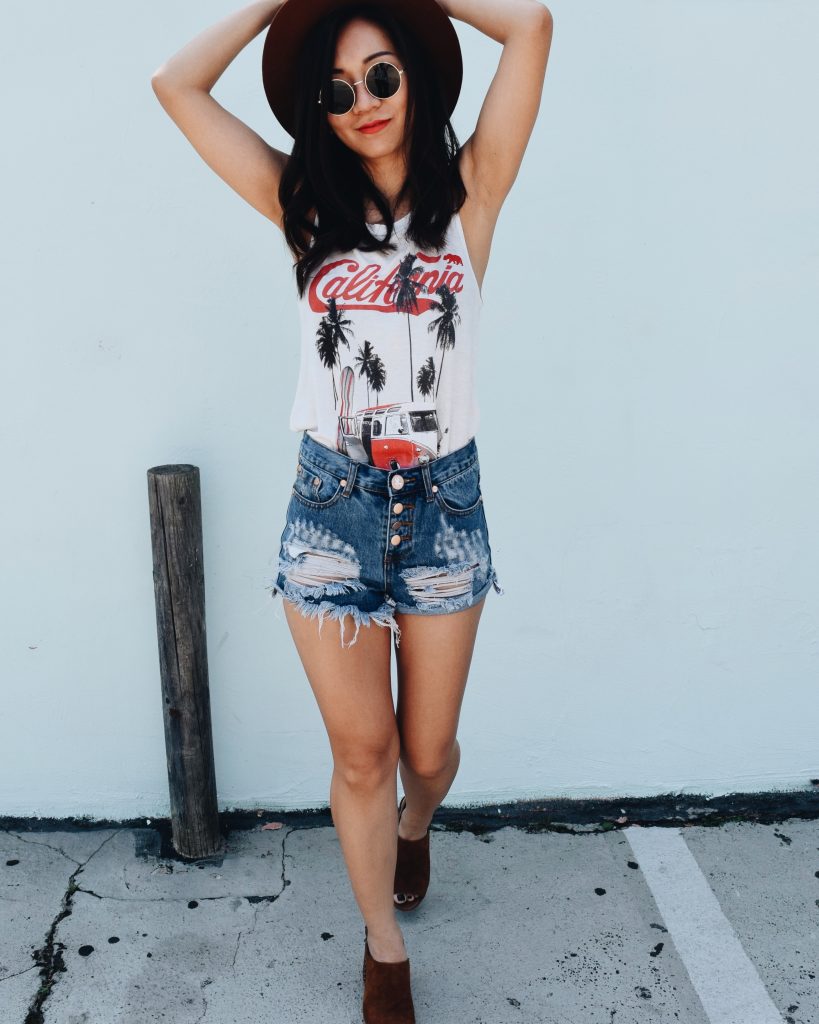 Yup.  It's been seven years and I have yet to attend ONE single Coachella festival.  I'm like a unicorn in the world of music festivals.  I don't exist.  Don't get me wrong, I'm not a hater nor am I an advocate of #Nochella.  In fact, I absolutely love live music, parties, and frolicking in the desert.  I think I just need to quash that inner voice that says I hate obnoxious people and suck it up and go.  However, just because I didn't attend Coachella this weekend doesn't mean I can't dress in festival inspired fashion.  I'm having my own fashion festival.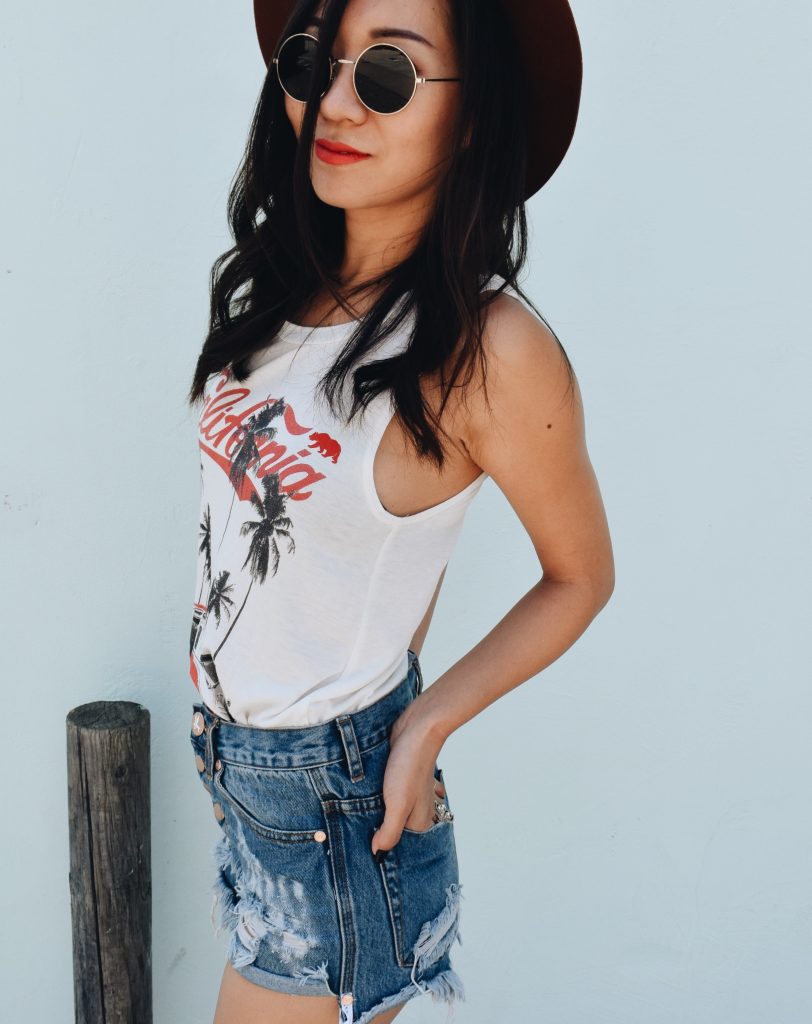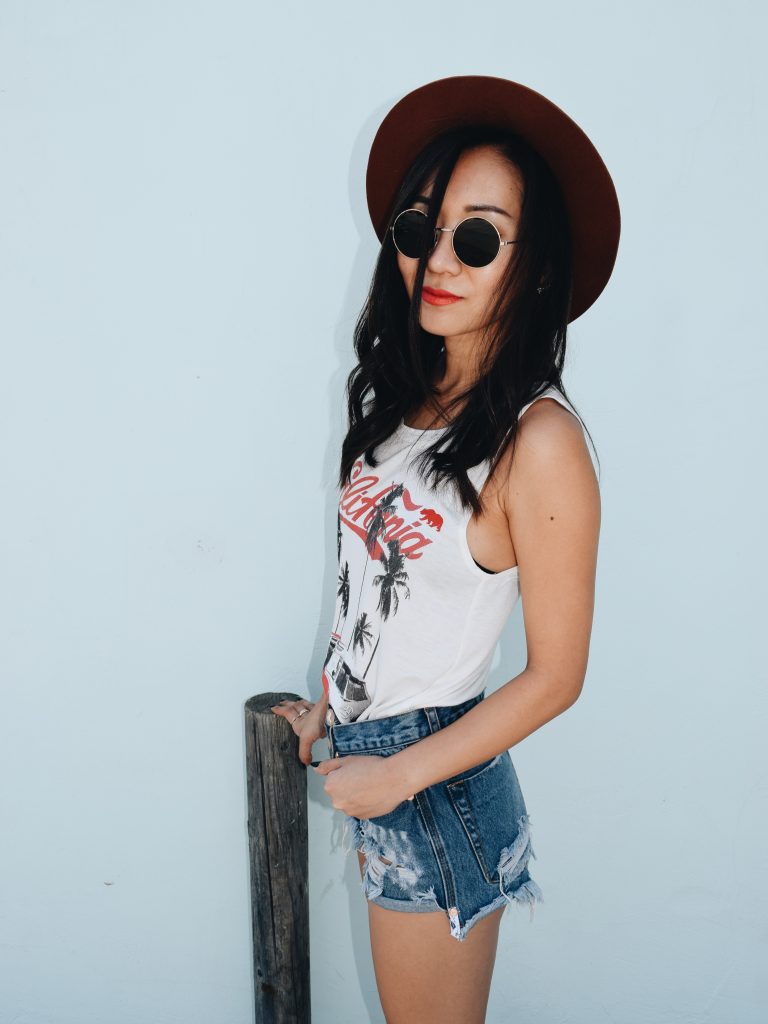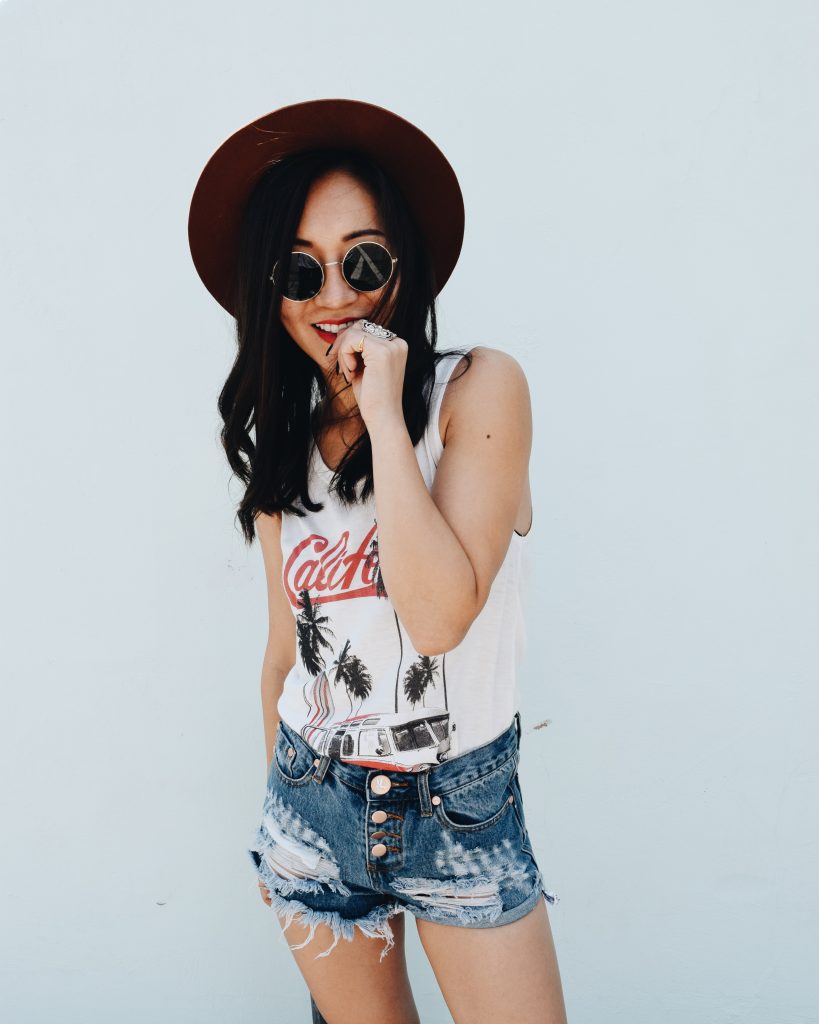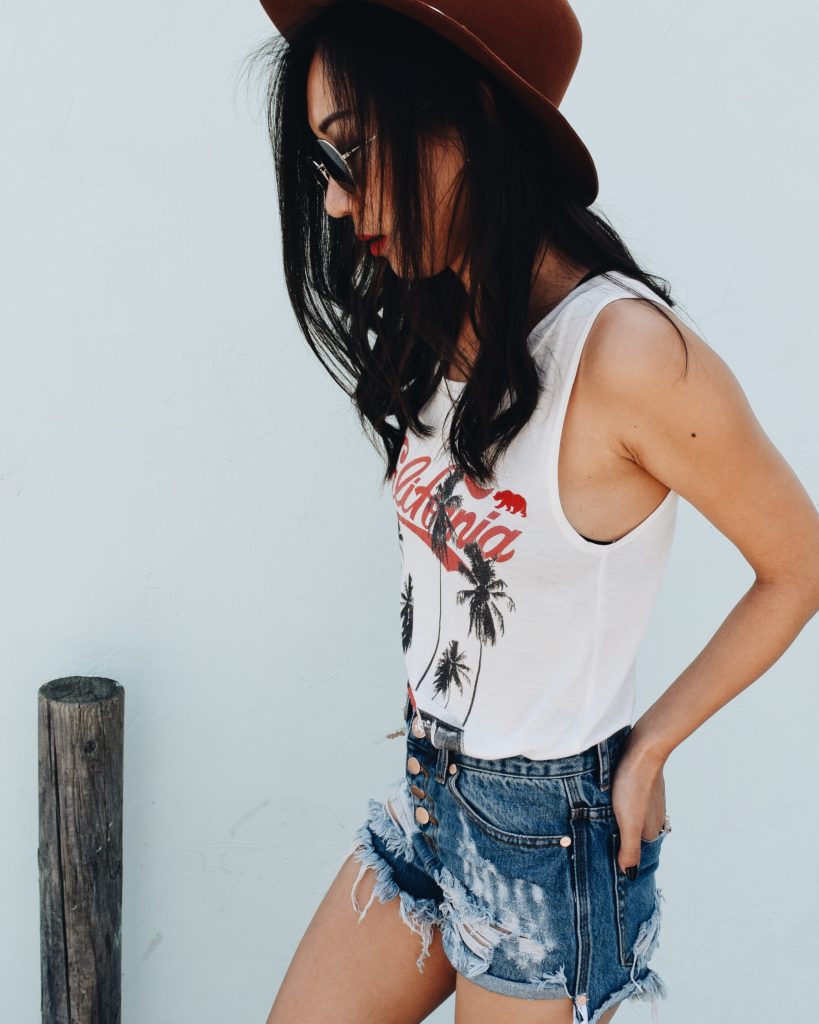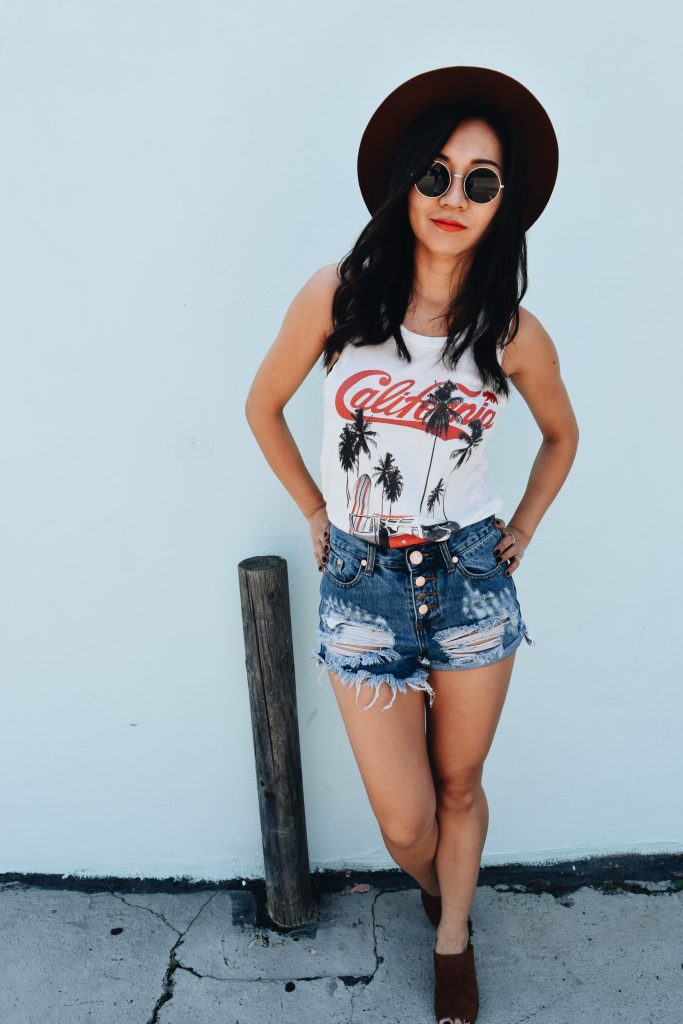 Two weeks ago I traveled afar, and by afar I mean Woodland Hills, to shop at The Village at Westfield Topanga.  It was there that I came across this super soft, super cute M.Fredric California Muscle Tank.  I decided to get a size M so that I could have that loose fit/slight side-boob action.  Though this exact tank is not available online, I believe it is still available in-store.  Here are some similar styles:
M.Fredric California 66 Cotton Muscle Tank
Comune x UO California Sunset Muscle Tee
Meanwhile, this pair of high-waist One Teaspoon Pacifica Romeos was a Nasty Gal purchase from last year (see COFFEE BREAK).  Denim shorts NEVER go out of style, and if you want a great pair, I highly recommend One Teaspoon as your brand of choice.  They're high quality and the distress and frays are placed perfectly.  They seem to run big so I would recommend sizing down.
I'm going through a hat obsession right now and I found this Hat Attack Avery Modern Hat in Rust and Rust Cord on final sale at Revolve for less than $30!  I know.  FINAL SALE.  Two of the scariest words to hear when you shop online, but sometimes you just have to take that plunge if you want to take advantage of that awesome price.  Size wise, I think it's about a Small in Brixton hats, so feel free to try on a Brixton Small and see if that fits.  It's slightly big for my head, but nothing a little hairspray and volume on the hair can't fix.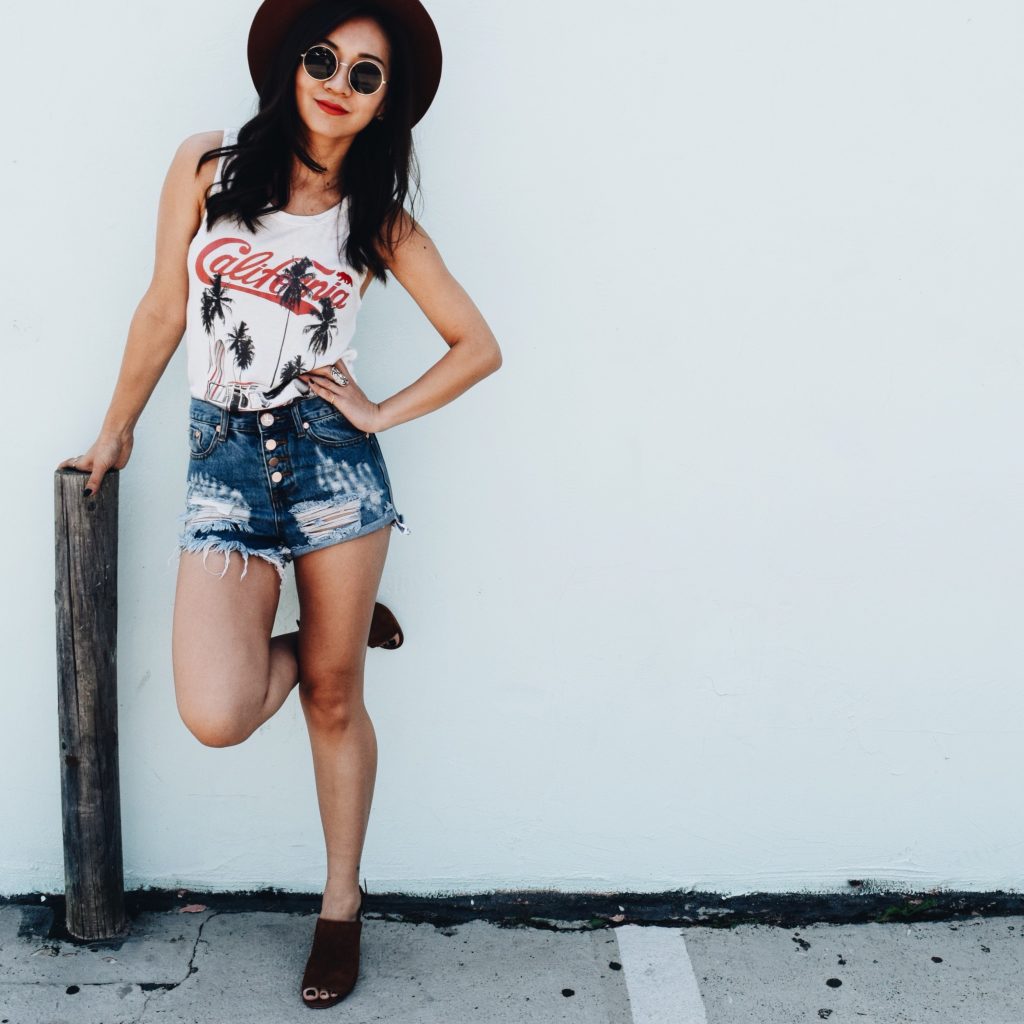 Coach Drew Heel in Saddle / Illesteva Porto Cervo Gold with Olive Lenses Sunglasses
Anyone headed to Coachella Weekend Two?  I have some upcoming collabs that I'm super excited about and definitely perfect for festivals.  Can't wait to show y'all!
Photographed by Danielle Torriero