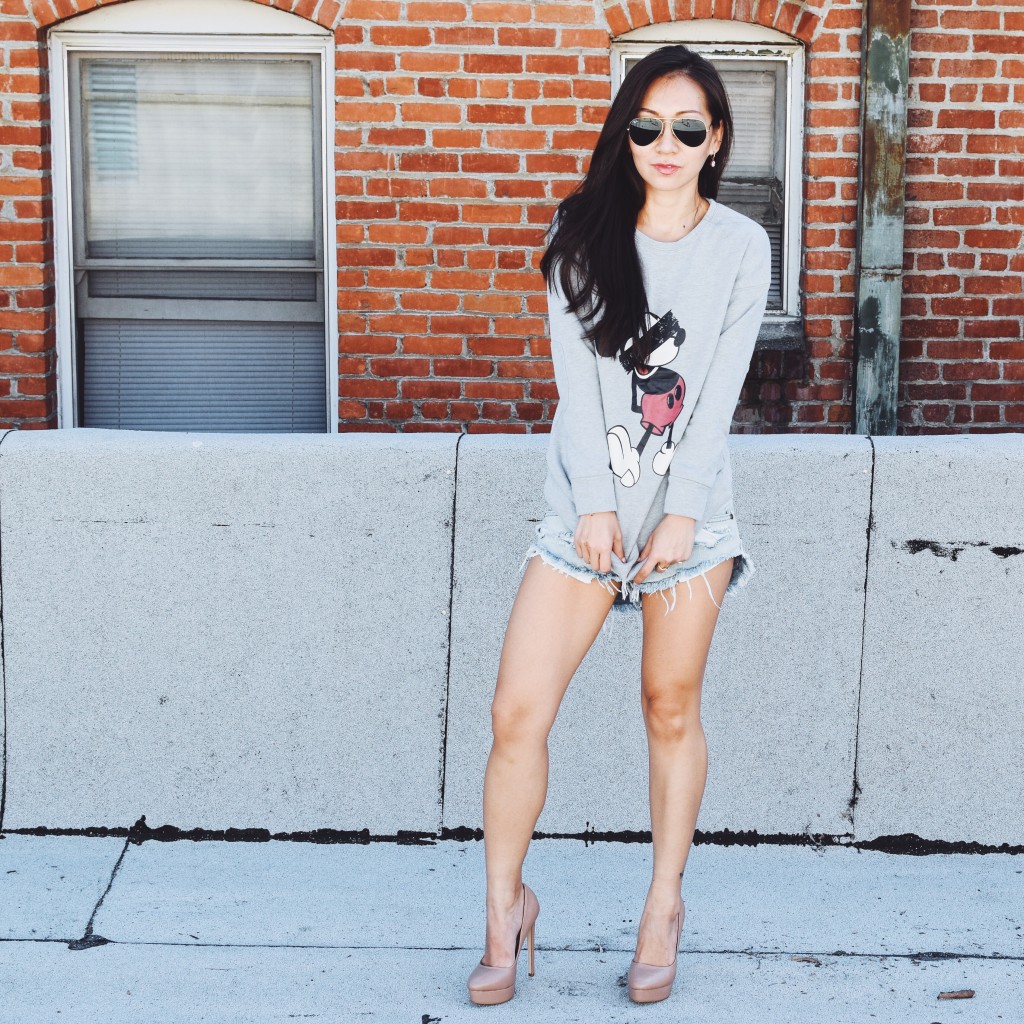 I just got back from visiting Atlanta, and the first thing I could think of when flying back to Los Angeles was Disneyland.  Not so much that it's the happiest place on Earth or that it's a huge landmark that represents SoCal, but the fact that I have lived in LA for six years and have NEVER been to Disneyland.  That's almost as shocking as me saying I've never been to Coachella either.  You're probably thinking that I should stop blogging right now and start living life, which I completely agree, but then who would be here to tell you about the fabulous sales and where to shop?  Let's all just take a step back and look at how cute and appropriate this outfit is for SoCal weather right now.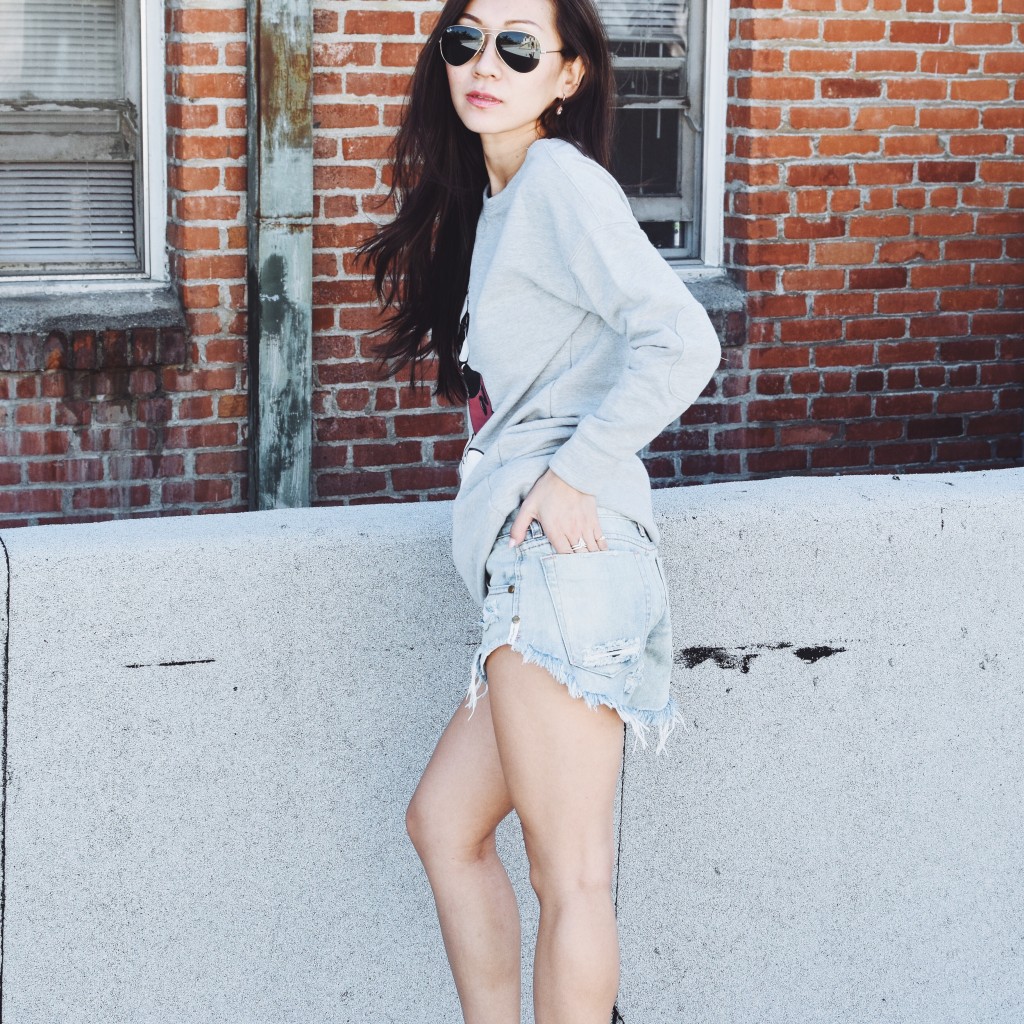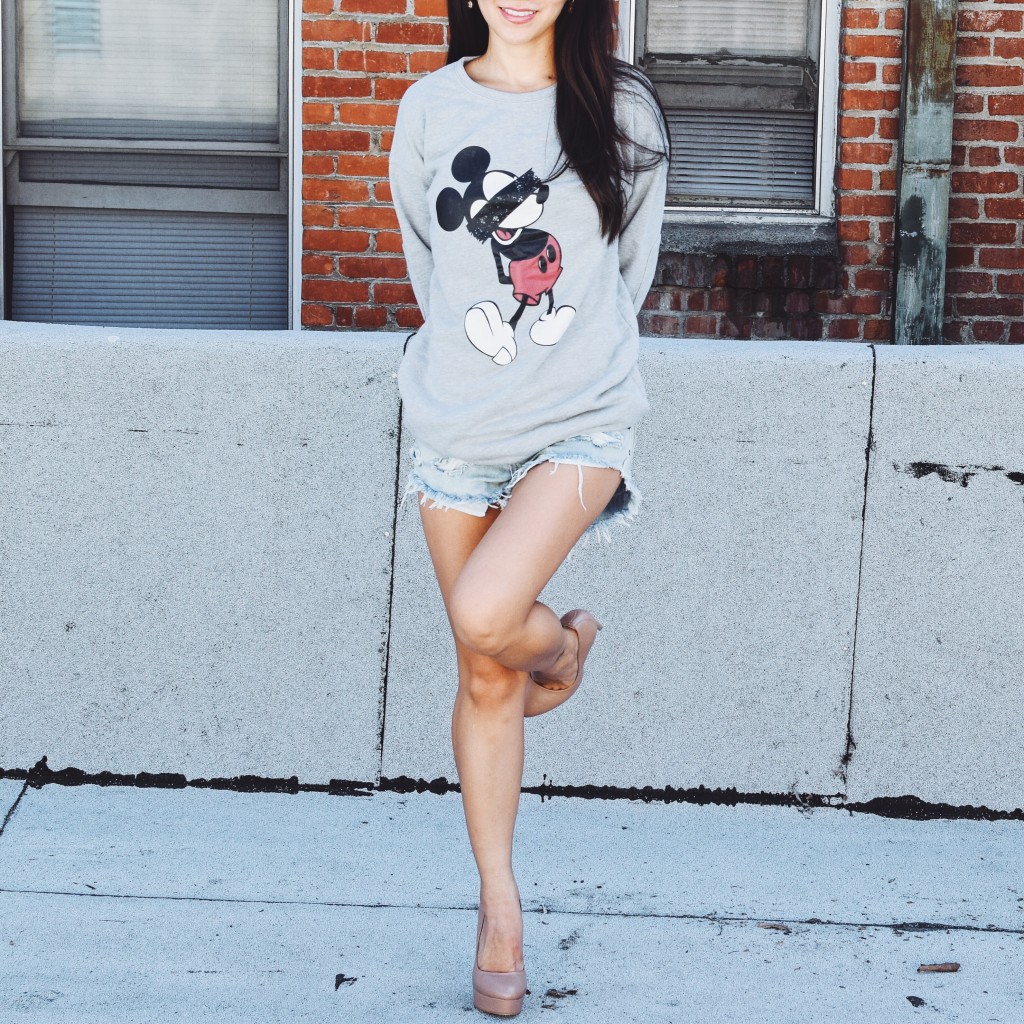 These OneTeaspoon Ivory Bonitas Denim Shorts were only $52 when I purchased them during the Northern Hemisphere Sale last month, which took 50% off everything site wide.  I got a size 24 and they fit very loosely around my hips, but they are suppose to be low-waist relaxed fit.  What I love about this brand is that most of their denim shorts are all cut to where the fabric in the back is much longer than the fabric in the front, so my booty gets coverage.  They still are cut high in the front so don't worry about not being able to show off your legs.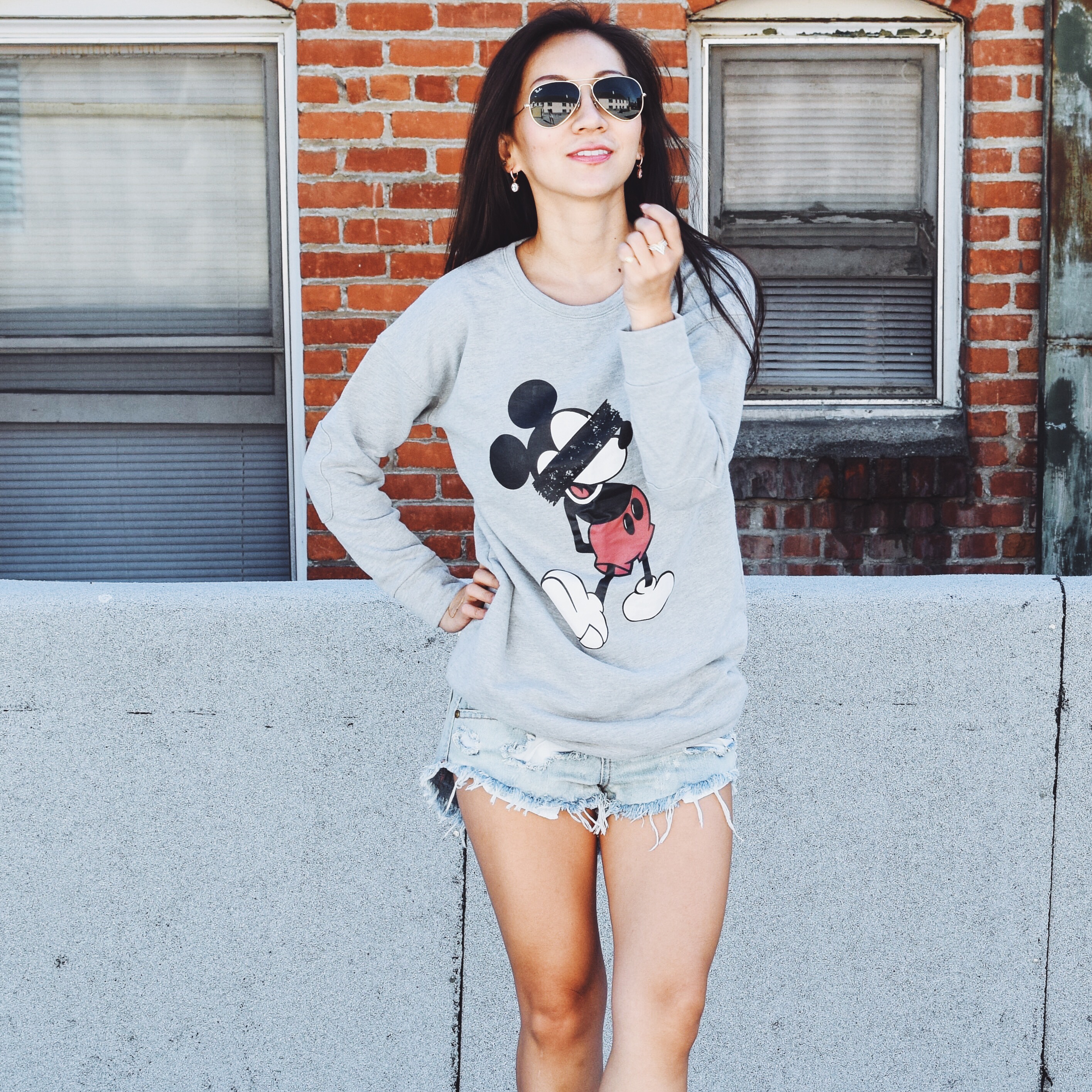 I got this Mickey Mouse sweatshirt from a small boutique in Shanghai, China.  I love the whole Disney-themed sweatshirts that are trending at Forever21 right now.  Here are some of my favorites that have a similar look: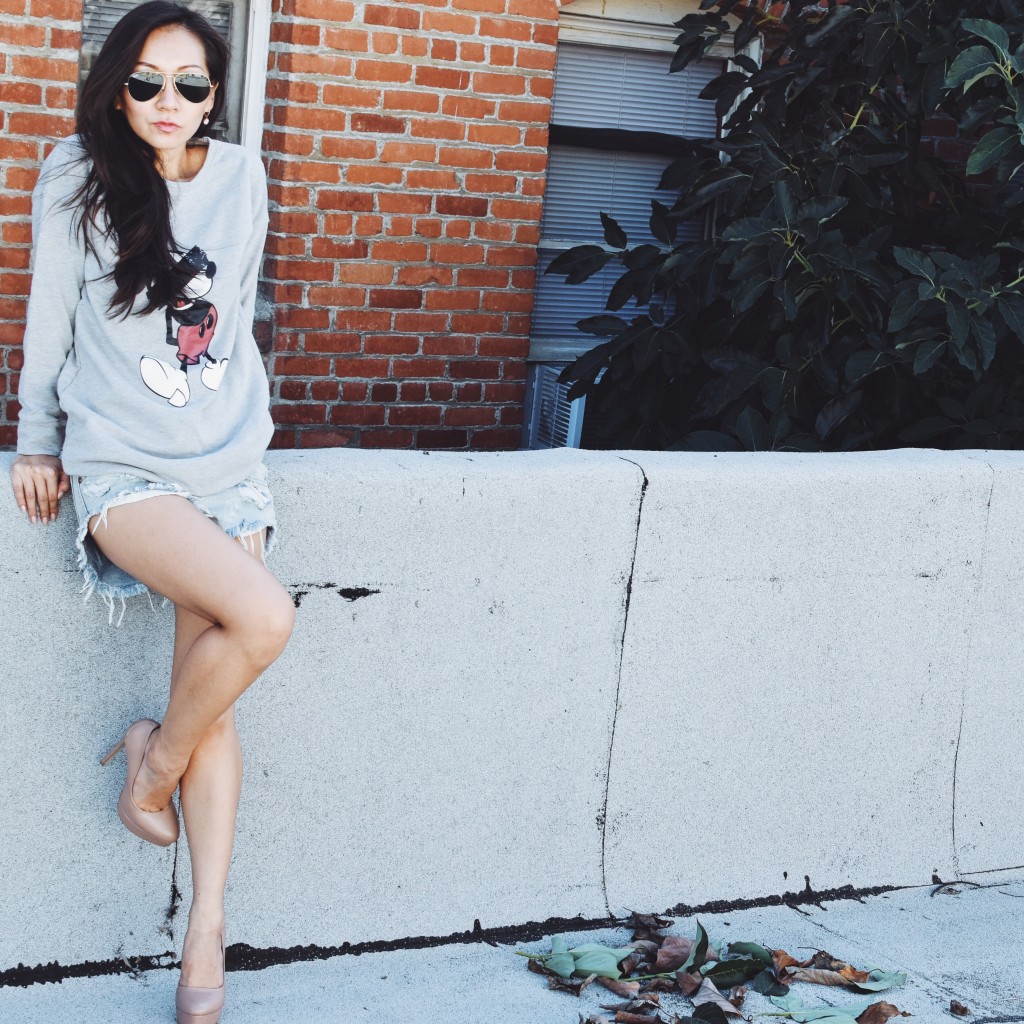 In order to elongate the look of my legs, I paired this outfit with a pair of Steve Madden Serrpant Platform Pumps in Blush Leather.  This style is currently sold out, but here is a similar look.  It's better if you stay away from patent leather for this outfit because you don't want to draw attention to your feet with shiny leather.  I would opt for nude/tan matte or suede leather.  You want to look long and tall, but discreetly by camouflaging your heels with your legs.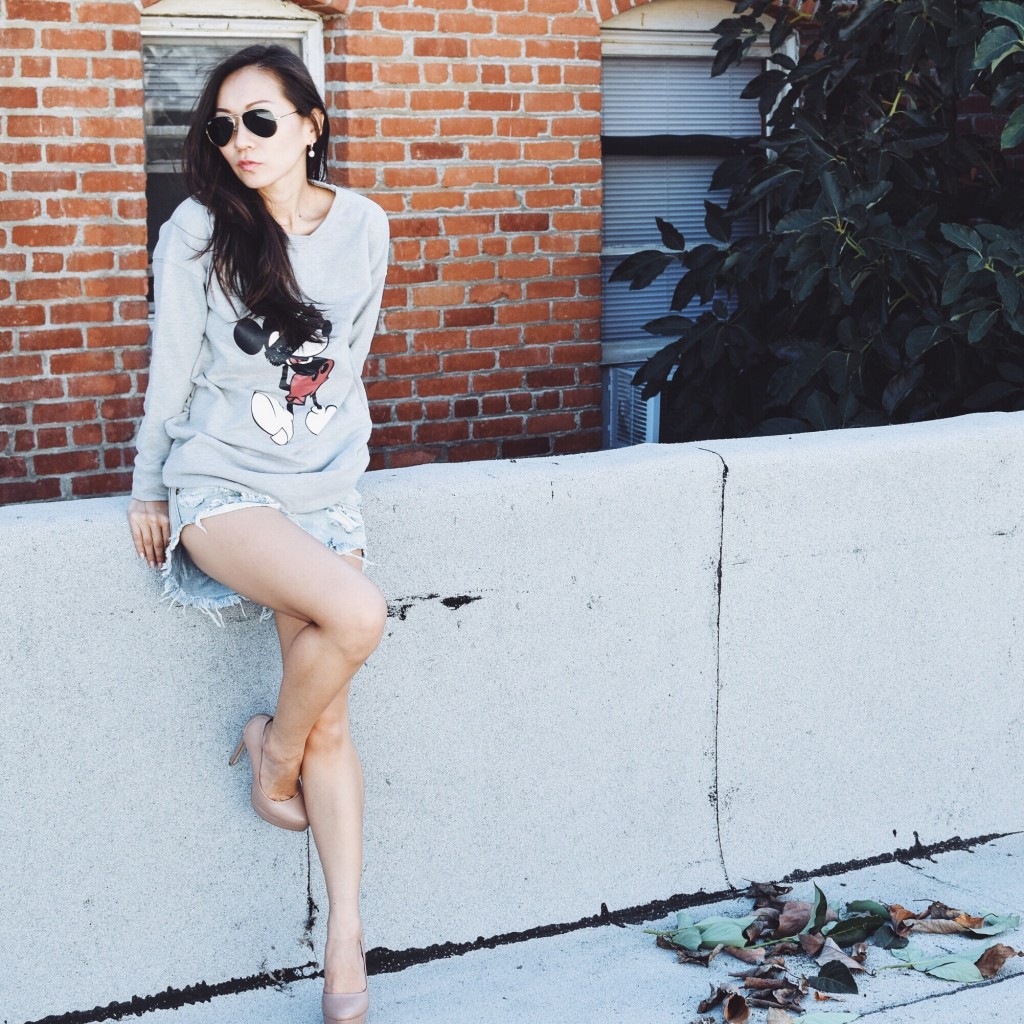 Glad it's finally cooled down a bit in LA, and I can't wait to start blogging about my great fall coats.  Anyone else still wearing shorts and rompers during the day?
Ray-Ban Aviator Classic Sunglasses / Chan Luu Gold & Swarovski Crystal Hand Chain in Light Silk /  Henri Bendel Chevron Stack Ring Set / Gorjana Interlock Midi Ring / Gemma Crus Rose Gold & Round CZ Drop Earrings
Photographed by Kelsey Morris