Traveling can be a pain.  Especially when it's around the holidays.  The last thing I want to do when I'm getting on a plane is wear something uncomfortable or constricting.  At the same time, I don't want to look like a hobo, so I've come up with a grand solution to wear sweats.  Not just any sweats, but chic and stylish sweats so that I can go straight from the airport to lunch without having to stop and change.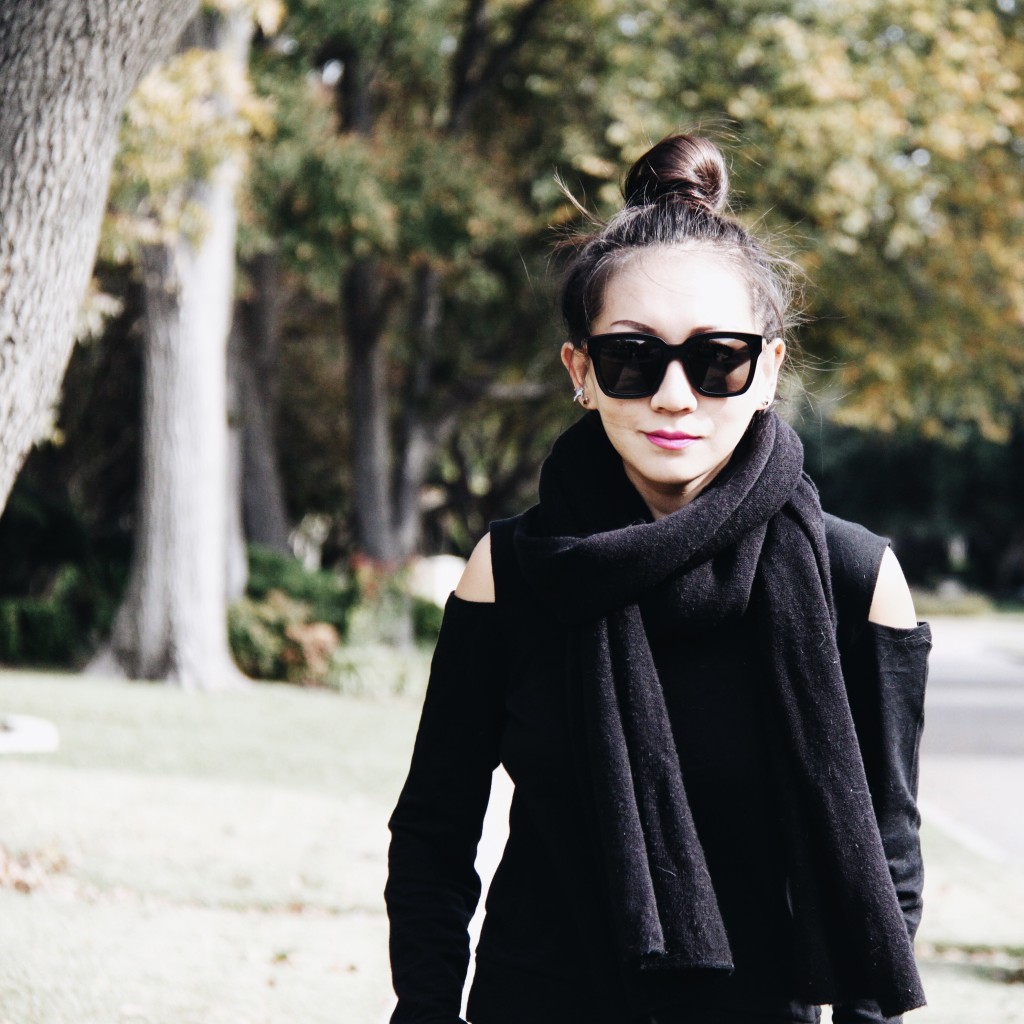 [Disclaimer: I want to apologize in advance for the dog hairs seen in some of the photos.  I literally had these photos taken right after I got off the plane and have been traveling with my dog, Kenzie.  I was also greeted warmly by my sister's dog, so double the dog hair.  I wish I would have used a lint roller, but I guess it adds to the authenticity of the outfit and the blog post??  Thanks for understanding!]
I found this ZARA Cut-Out Shoulder Top at the beginning of last month for less than $20.  Unfortunately, because it was such a great buy, this top is now sold out.  I can't even find it on their website anymore.  However, this style is still available as a dress for less than $26!  I love that it has the cotton, comfy feel of a sweatshirt, but the cut-out shoulders give it an edge.  I can easily dress this shirt up with a leather skirt and wear it out to a nice sushi dinner.  This top is a great fit for women of all sizes.  Here's a similar look.
This pair of ATM Anthony Thomas Melilla Tuxedo Stripe Track Pant is one of my best sale purchases, EVER!  I got it for $35 on clearance at Barneys Warehouse last year.  I have my top brand picks when it comes to splurging on comfortable, quality cotton goods, and this brand is one of them.  I have had my eyes on ATM since I first felt a pair of his leggings at Barneys New York store at The Grove.  Ever since then, I've been obsessed with finding that same delicious feeling that only he and Rick Owens have been able to accomplish.
I love that there are blue panels going down the side of the pants.  There are also these buttons at the sides of the waist that are covered up by my shirt in the pictures.  This could easily just be another pair of black sweatpants, but it's the details that make this style streetwear vs. loungewear.  Here's a similar look.
Don't forget to top off the look with a pair of platform boots or kick ass sneakers.  I think LA has brought style and edge to many sweats and casual outfits.  Does anyone else love wearing casual wear?  Let me know if you have any questions, suggestions or comments!  Thanks!
Gentle Monster Dreamer 01 Sunglasses / ZARA Leather Platform Ankle Boot (sold out | similar look) / ZARA Black Knit Scarf (sold out | similar look)
Photographed by my sister (love you!)