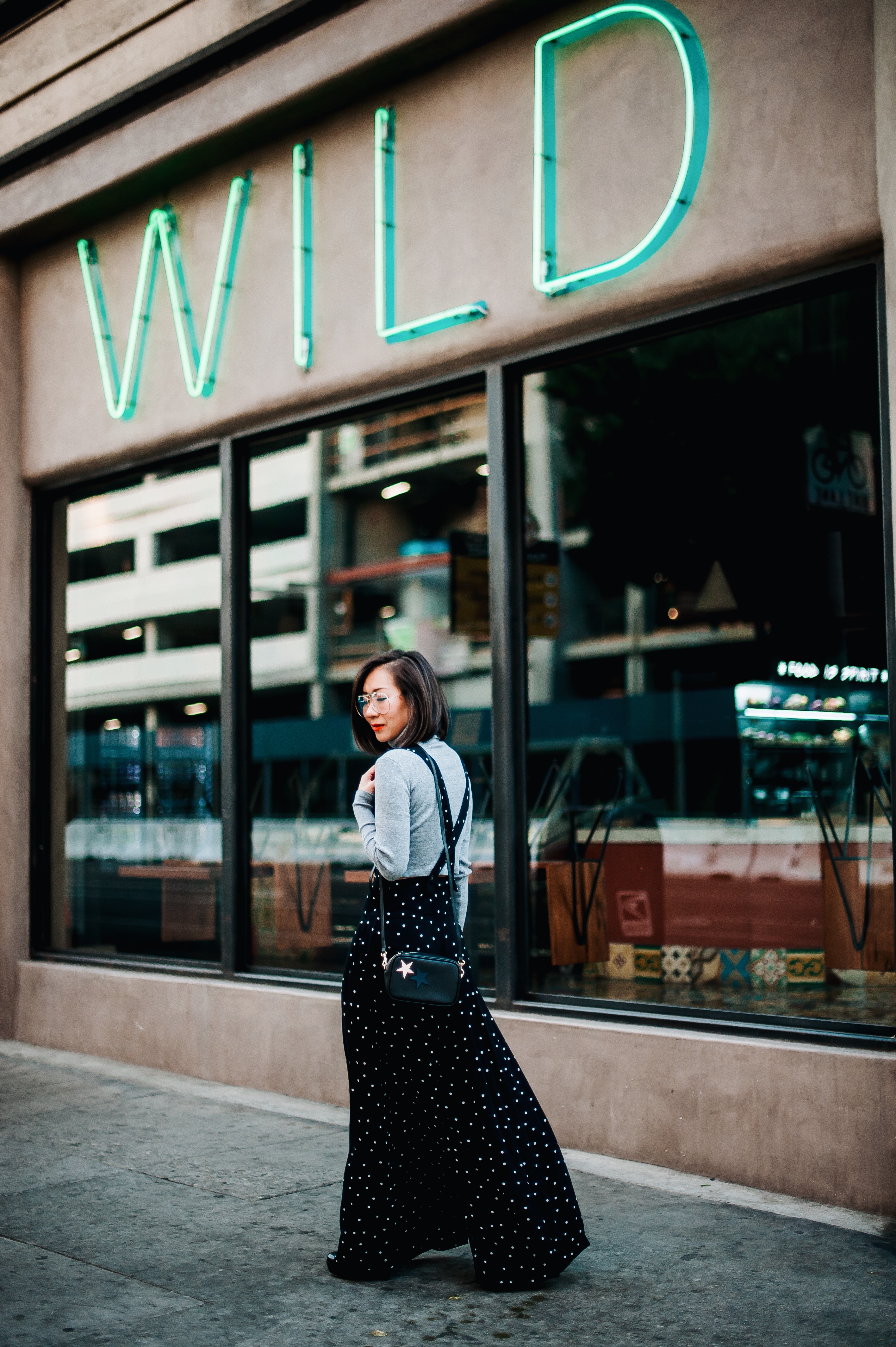 I am ashamed to say that I don't know LA well outside of my little WeHo bubble.  I have lived here for over 9 years, and I still don't venture out much from my mid-Wilshire/WeHo area.  And by "don't venture out much" I mean I have only driven 54,000 miles on my car since 2009.  The average person drives 12,000 miles per year.  I have driven half of that.  I know that Arcadia is a city east of where I live, but I couldn't tell you if it's north or south of I-10 or how to even get there.  So when my now boyfriend tells me he lives in #DTLA, I was ignorant enough to think of only one thing, "that's where Skid Row is, right?"
The DTLA that was 9 years ago…shit, the DTLA that was 2 years ago, is not the same DTLA that is today.  From Arts District, to The Broad, to Little Tokyo, DTLA has flourished, (to say the least), and is growing and expanding by the day.  Expensive commercial and residential real estate are popping up everywhere taking over junk yards and worn down, vacant factories.  Before I started dating my boyfriend I only knew of Bestia, the rooftop bar of The Standard Hotel, and Bottega Louie.  I have a whole new insight to what IS Downtown Los Angeles, and I would like to share with you my fav DTLA spots.
FEED ME I'M STARVING
My options for where to eat are somewhat limited as I am a pescatarian.  God bless my carnivorous meat eating boyfriend for being so accommodating, and have taken me to some of the best restaurants in DTLA.  The ones that we tend to go back to are:
Bäco Mercat – We come here for dinner and always get their Double Mushroom Coca, which is essentially a flatbread pizza that will blow your tastebuds.  SO EFFIN GOOD!  I also highly recommend their Moxie cocktail if you like a good bourbon drink.
Poppy + Rose – My favorite weekend brunch spot that doesn't take reservations.  It's in the middle of the Flower District, and yet people drive in from all over the city to wait in line for 30-45 mins to dine here. Yup.  It's that good.  They only offer the Eggs Benedict on the weekends, and the hollandaise sauce is worth every calorie.
Lao Tao – As if fate couldn't have been more perfect, one of my boyfriend's favorite restaurants is a Taiwanese street food restaurant in the heart of Chinatown.  (In case you didn't know, I'm also Taiwanese).  There aren't many vegetarian options for me, but everything here reminds me of home.  We normally come here when Pine and Crane seem too far out of the way.
KazuNori – I wasn't sure if I should list this place as it seemed too obvious of a choice, but it would be wrong of me to not mention it as we probably come here once a month.  Unless you've been living under a rock, you would know of the deliciousness that is the hand rolls of KazuNori.  Once again, no reservations, small dining area, and the hand rolls are made to order right in front of you.  If you want an under $30 quality Japanese-cuisine meal, this is your holy grail.
SEE AND BE SEEN WITH A COCKTAIL IN HAND
We're old and we don't go out much, but when we do, this is usually where we end up:
Broken Shaker – The rooftop bar of the new hip Freehand Hotel has some of the best sunset views you can find in DTLA.  We haven't day partied here, but there's a pool (only for hotel guests) and there's an award winning bar.  Nuff said.
Pattern Bar – Somehow we normally end up here after dinner in downtown.  They play great house music, and often fly in DJs from around the world to play there.  Their drinks are reasonably priced, and t's also just down the street from my boyfriend's place.  We can stumble back home without too much hassle (i.e. #NYE2018).
Cliftons – I can't explain this place well enough but to say, "you just have to go there to experience it".  Every floor has a different theme and genre, and you feel like you might be in a fun house/cafeteria/bar/dance floor.  We went here on our first official date and I can't wait to go back.  It's just a really cool f*cking fun place.
DO IT FOR THE 'GRAM
None of this would become what it is if it wasn't for the power of social media.  Artwork, murals and graffiti are placed all over DTLA for the sole purpose of being 'grammed.  These are some of my favorite places to explore and take pics:
The Broad – Yes, the Infinity Mirrored Room is sold out.  Yes, the general admission tickets are also sold out.  Getting admission to see artwork here is like trying to get front row tickets to Taylor Swift's concert.  However, if you have the patience and are free next month on a Tuesday at noon, you can get free general admission tickets to wait in line for an hour to see the Infinity Mirrored Room for 45 seconds.  Worth the InstaStory post.
Jesus Saves – The landmark neon signs of the Ace Hotel Downtown Los Angeles is right outside of my boyfriend's window.  It's definitely a cool spot to take pictures, but the Ace Hotel offers so many more nooks and crannies for you to snap pics.  The hotel rooms can be quite small, and their brunch can be quite salty, but overall this is a cool place to hangout.  If nothing else, do it for the 'gram.
There are still many new places within #DTLA that I have yet to explore.  Any suggestions of places I may not know about?  Let me know!
Top: ZARA (sold out | similar look) / Jumper: Free People / Glasses: ZeroUV / Bag: The Daily Edited / Earrings (main hoops): Luv AJ / Earrings (assorted hoops): Luv AJ
Photographed by Laci Havens