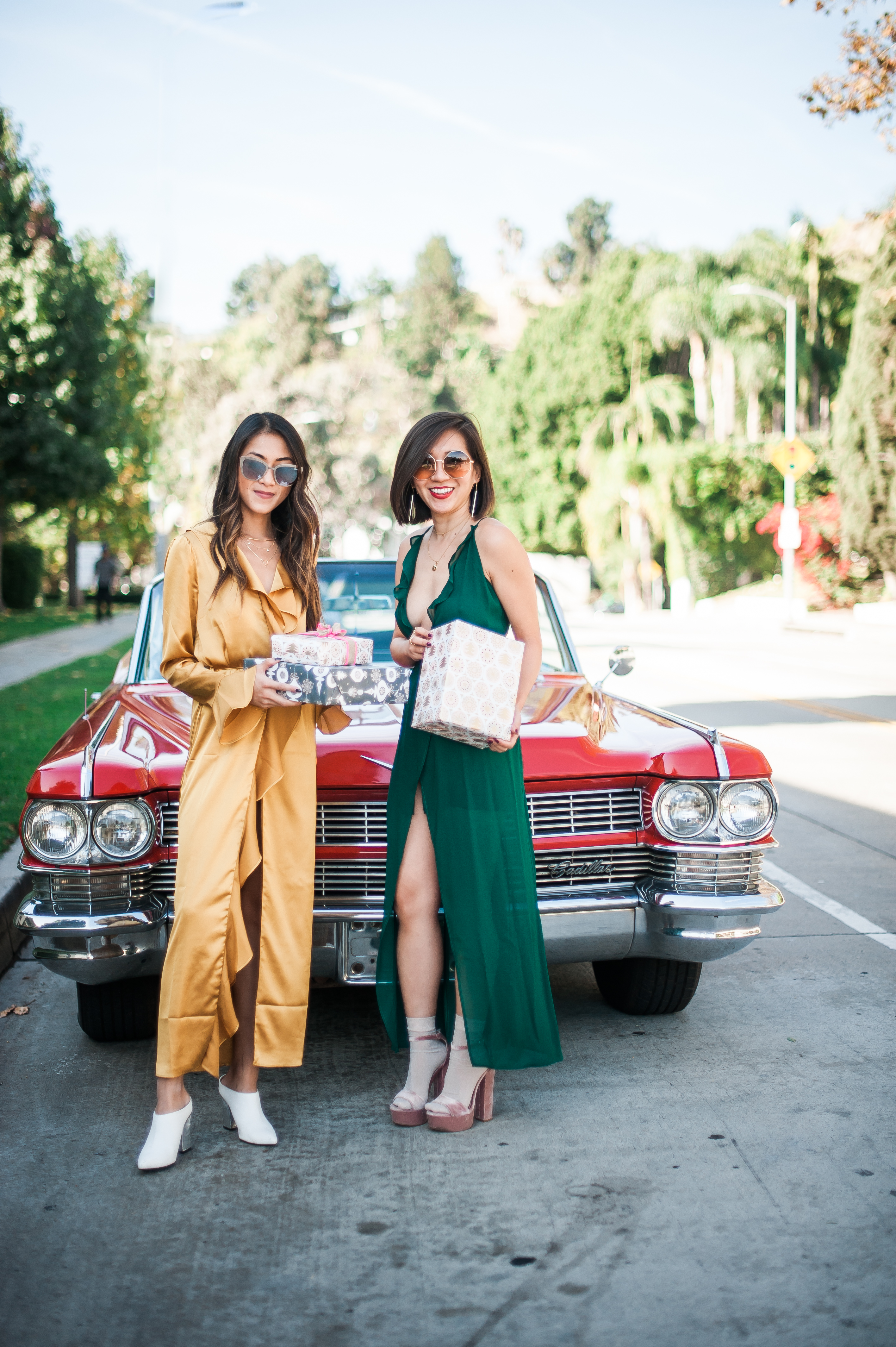 This Christmas season has been full of celebrations, gifts, food, friends and family.  I got to celebrate Sagittarius birthdays (TheLuxiLook & StripesCollide), an engagement (GlamaRosh), and births of new Kangs into the family, (congrats David and Kristine!).  I had fun photo collaborations with The LuxiLook, (as seen in these photos), shot by the wonderful Laci Havens.  I am very grateful for all the love I have in my family and I'm happy to share with you some of my favorite moments this Christmas.
GIFTS
Let's start with the good, materialistic stuff.  I am a Taurus after all.  These are the wonderful and fabulous gifts I got this Christmas from my friends, family and bf:
DR. MARIO
My brother-in-law got my sister the old Nintendo system for Christmas and we spent the entire Christmas day and afternoon drinking about 4 bottles of red wine and playing Dr. Mario with my nephews.  It brought back so many fond memories of my childhood.  This game is ADDICTIVE!  I can't wait to set it up at home and play it with my bf.  It's just more fun playing it as an adult because now we get to add wine and alcohol into the mix.  Haha!
DAD
My parents currently live in Shanghai, China with my little brother, so any amount of time I get to spend with them is memorable.  My dad is about to turn 70 and has gotten to an age where everything is nostalgic for him.  I don't blame him, because I started thinking about all of our childhood Christmas' in Dallas.  My parents would throw the biggest Christmas party on the block, and all their friends and kids would come celebrate.
This Christmas, only my dad was able to make it back to Dallas.  I loved shopping with him at his favorite store, T. J. Maxx, and eating with him at his favorite restaurant, Olive Garden.  They might not be his actual favorite, but they were the places we went to as kids, and I think he likes remembering those moments.
NEPHEWS
My nephews and I have a Christmas tradition that we started 3 years ago.  I usually fly into Dallas a few days before Christmas.  I borrow my sister's car, and I take the kids to Dave and Busters and Toys R Us.  The D&B portion is to celebrate their birthdays since I live in LA and am never able to attend their actual birthday parties.  Then I take them to Toys R Us, where they can each show me 5 toys that they would like for Christmas.  I then send them to the books sections, and I buy them a gift each from their selections.  I'm not the best Santa Claus, but at least it's still somewhat of a surprise.
These little moments are what I treasure the most from my Christmas time spent at home with the family.  I hope each of you had a wonderful Christmas holiday, and that Santa brought you lots of goodies this season.  I have one more holiday post before the new year, so be sure to let me know what you'd like to read in 2018! Xoxo!
Dress (on me): Reformation (sold out | similar look) / Sunnies (on me): ZeroUV / Sunnies (on her): Quay Australia / Earrings (on me): Charming Charlie / Necklace (on me): Mejuri / Choker (on me): Mejuri / Socks (on me): H&M (sold out | similar look) / Heels (on me): Steve Madden
Photographed by Laci Havens