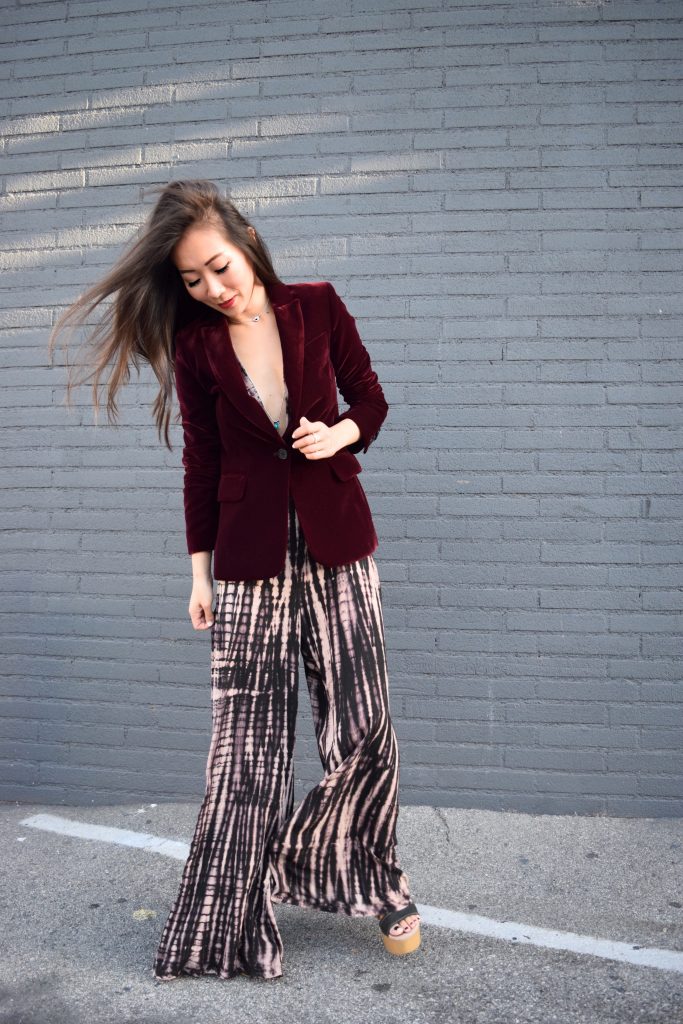 As you may or may not know, I have a deep love for outerwear.  I buy jackets, coats, cardigan sweaters, and dusters at any opportunity I see fit, regardless of temperature or the season.  I knew way back in May of this year that I was going to wear this gorgeous velvet Reformation Poinsettia Blazer when the right time came.  I knew I had a velvet crush, but this was lust at first sight.  So, at the Reformation sample sale, I decided to take the plunge and buy a blazer that I knew I wasn't going to be able to wear for at least another 4-5 months.
I couldn't be more pleased with my decision.  I am so utterly obsessed with the tailoring, the color, the fit, the cut, and the feel of this jacket.  It is quite essentially my favorite jacket of the season.  However, being the fashion pirate that I am, I wasn't about to pair this classy looking blazer with a stiff, skin-tight dress or even a pair of fashionable trousers.  NO.  This blazer deserves a free flowing, hippie-vibing, sexy-ass Blue Life String Along Jumper.
Here are some of my favorite, (and very similar), velvet blazers and jumpsuits:
River Island Evil Eye Choker Necklace / Sbicca Annabella Platform Sandals
Speaking of fab finds at sample sales, I had a killer time at the PB Flea this past weekend.  Got lots of great stuff from Stone Cold Fox, For Love and Lemons, Mara Hoffman, and Wildfox.  Can't wait to show y'all all the new goodies!
Photographed by Laurie Douglas