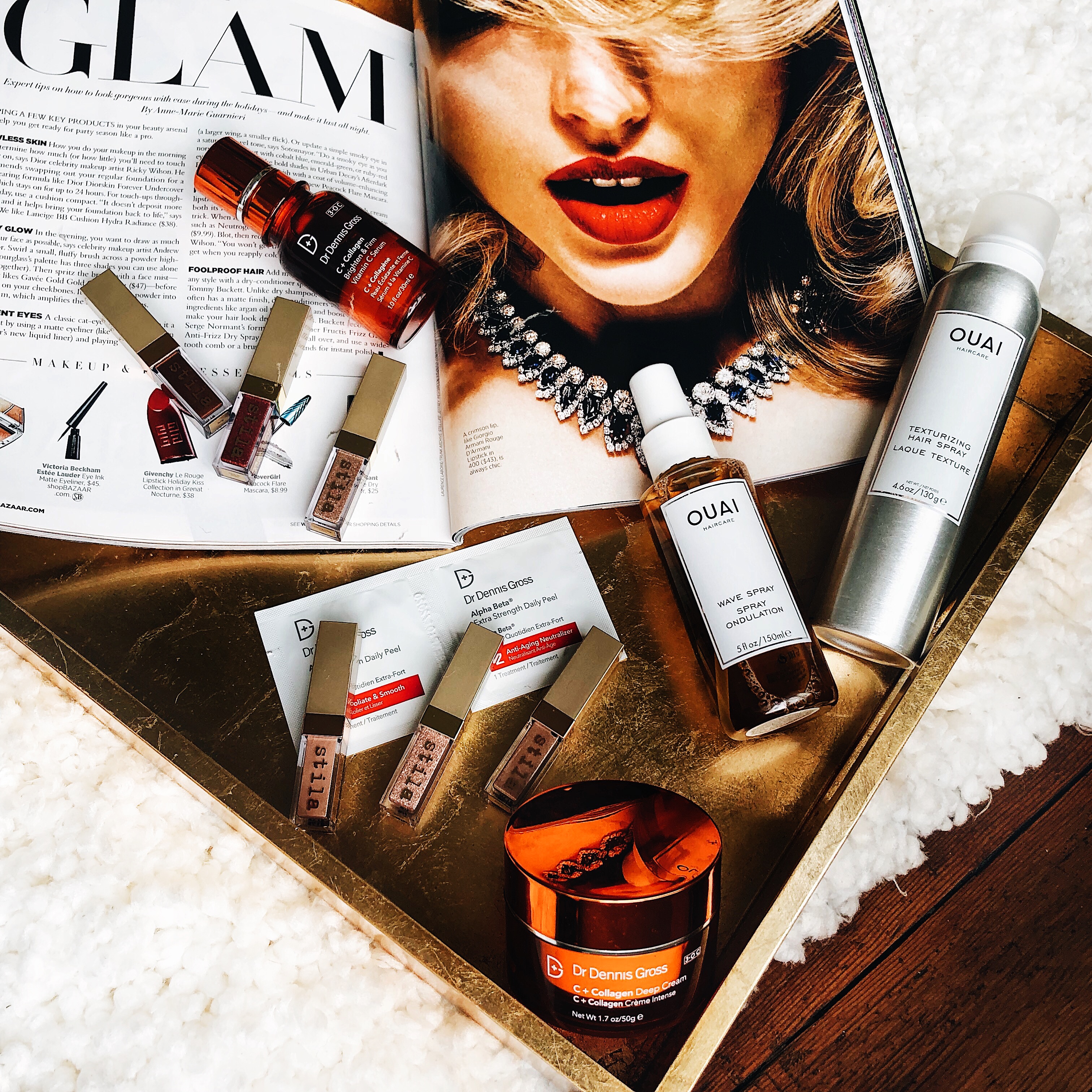 As a blogger, I am often gifted with tons of beauty products to try and use.  From skincare to haircare to makeup, there are just tons and tons of great products out there.  However, there were a few brands that just stood out after testing and have now become my daily go to staples.  The brands and products I'm about to recommend are NOT SPONSORED.  Yes, some of the products were gifted, but some were purchased by yours truly, and my reviews are 100% my honest opinion.  So here goes…my favorite beauty finds of 2017:
SKINCARE
Hands down, my favorite skincare line of 2017 is Dr. Dennis Gross, and specifically their Alpha Beta peels and C+ Collagen line.  If you have followed along on my InstaStories, then you would know that I've been using their Alpha Beta peels since the summer, and have raved about it ever since.  It's the quickest and most effective 5 minute in-home peel you can buy.  Sephora runs a special of 5 bonus peels with the 30 treatments box.  I don't use it daily as suggested, but every other day.  I feel like my skin just glows from the inside out.
Their C+ Collagen line was later introduced to me after I started using the peels, and I am OBSESSED with using the serum and deep cream every night.  I use to only use La Mer for my night cream, and did so for 10 years.  However, it became too costly, and I've been in search for a new night cream ever since.  The deep cream can be used in the AM and PM since it's light enough to be worn during the day, but I like using it in conjunction with the serum, which is to be used once daily.
Frankly, for the quality and effectiveness of their products, I would expect Dr. Dennis Gross to be at a higher price point.  However, they're still fairly new, and with so much competition out there, I can see why they have sustained at their current prices.  Don't worry, I'm not complaining.  I'm just happy that I have found a skincare line that works and that I can afford.
HAIR CARE
Ever since I chopped off my hair this fall, I have noticed that I have to use so much more products in my hair in order for it to not look dead or limp.  From texturizing sprays to thickening hairsprays, I've been spritzing all kinds of stuff in my hair.  The two products that have made the cut are OUAI's wave spray and texturizing hair spray.  They literally bring life into my hair.  I use the wave spray on my washed damp hair, blow dry, then spray in the texturizing hair spray to give it volume.  It works wonders.  I usually keep the hair style for a few days and just spray in more texturizing spray when need be.  Usually by day two my hair is good and ready for some curling action, and that's when I bust out my T3 Micro wand.  It gives me the perfect loose wave, don't care kinda look.
MAKEUP
I could pitch you a million products under the makeup category, but that defeats the purpose of this post.  There was just one makeup item that I really fell in love with this year, and that's Stila's Glitter and Glow Liquid Eyeshadow.  I love them in every color and finish.  They are the perfect enhancement to any eyeshadow look.  I thought they would be clunky and dry up sticky, but they are just the opposite.  They glide on smoothly when applied, and they dry naturally like a moisturizer going into the skin.  The glitter and metallic finish doesn't irritate my eyes and I love the way they sparkle under the light.  I loved the first one I purchased so much that I got the eyeshadow set as well to test out all the other colors.  This would be a perfect addition for your NYE look.
There you have it.  My favorite beauty finds of this year.  I wish you all a safe and fun New Year's celebration and I can't wait to see y'all in 2018! Xo!