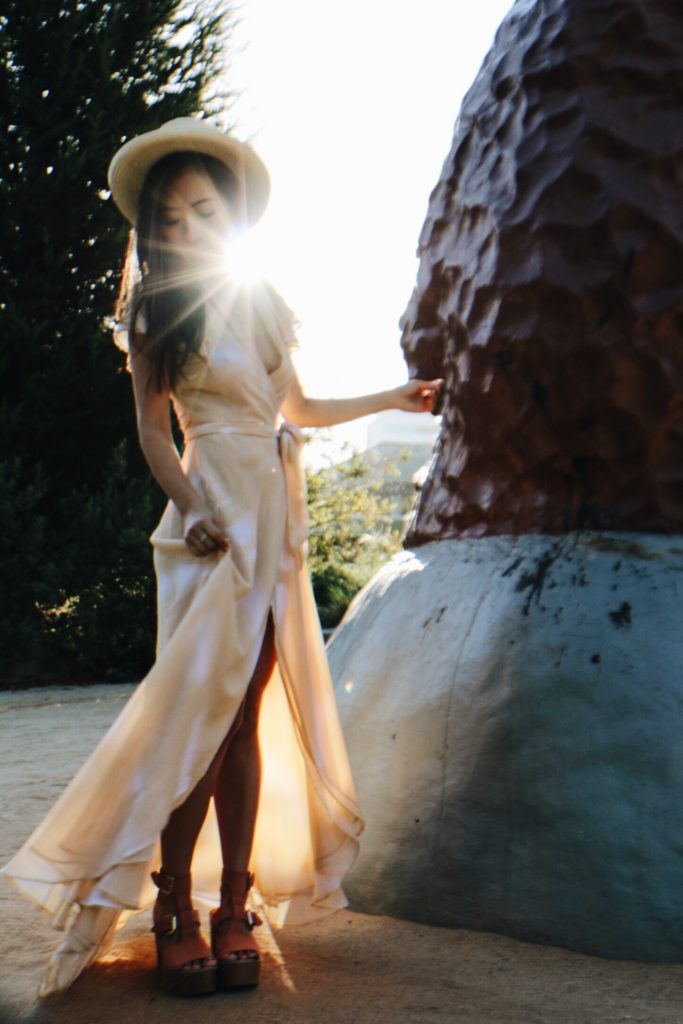 The last few blog posts have been about my evolution of photography.  I'm slowly learning my Nikon D5300 DSLR camera, and grasping the basic knowledge of aperture and ISO.  I've been chasing sunlight on the few photoshoots because we're shooting at dusk.  However, my dear friend, Laurie, and I decided that we're going to try shooting at dawn to avoid running out of sunlight.  Worse comes to worse, we'll shoot during direct sunlight, which is what we've always done in the past.
Now, I'm not the best morning person.  I get up around 8am, but it's a very slow process.  I usually diddle daddle on my phone, check on some emails, and doze in and out of sleep for the next hour or so until I have my morning workout class.  In order to catch the sunrise we decided to meet up at 7am to shoot.  -_-
7am is like any regular wakeup time for the average person who has a 9-5 job.  However, shooting at 7am for a fashion blogger means waking up at 5:45am to shower, put on makeup and style your hair, then rush out the door with all your outfits in order to pick up your photographer at 7am to go shoot.  I'm an actress, I've had worse call times than 7am, but being hair AND makeup ready at 7am to shoot for your blog takes motivation and a kickass photographer friend.
These photos were taken with Laurie's camera, which is a Canon EOS 70D, with a Canon EF-S 18-135mm f/3.5-5.6 lens.  Unfortunately, we haven't figured out how to use her camera yet.  (Sigh, back to square one).  We had the setting set to AV, but for some reason we couldn't figure out how to change the aperture or ISO.  Also, it looked like the focus was set to manual and no matter how much we played with it, we couldn't change focus to auto.  SO, if some of the pictures look a bit grainy, I apologize.  We're learning.
I'm wearing a stunning Raga Caribbean Sand Wrap Dress that I got from Planet Blue.  This dress is magical, and works very well with sunlight.  It's a bit see through, but nothing a little pastie or nude under garments won't fix.  I believe this dress may be sold out, but here are some very similar dresses that give off the same tropical, tie-dye whimsical vibe: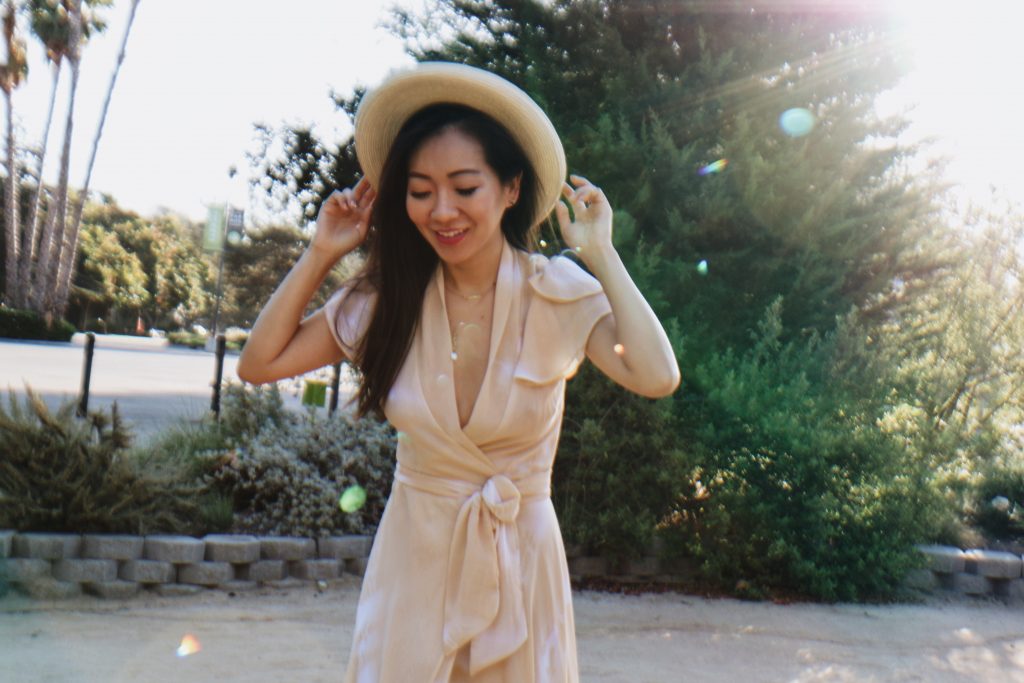 Reformation Straw Boater Hat (sold out | similar look) / Rebecca Minkoff Script "Taurus" Pendant Necklace / Free People Fever Platform Shoes
I've had my A/C turned on nonstop since Tuesday.  It's Friday.  My electricity bill is going to sky rocket this month.  Is anyone else over this fall LA heat wave?!
Photographed by Laurie Douglas