Ever run out of food so you just throw together whatever you have left in your pantry and fridge and it turns out to be the best freaking dish you ever made?  That rule also applies to fashion.  I hate it when things are too matchy-matchy or coordinated.  My mother has a tendency to be matchy-matchy, and I'm always correcting her in her styling because a look can become "too much".  Just because you wear a Chanel coat doesn't mean the rest of your outfit has to be head-to-toe Chanel.  You'll end up loosing that debonair, classy look you were going for and just become pretentious.
It is based on this fashion guideline that I put together this outfit.  I have a mixture of classic, stripe tee with fitted, high-waist skirt with chunky, knit scarf.  It's a mishmash of things thrown together, but creates a look that's slightly conservative but bold at the same time.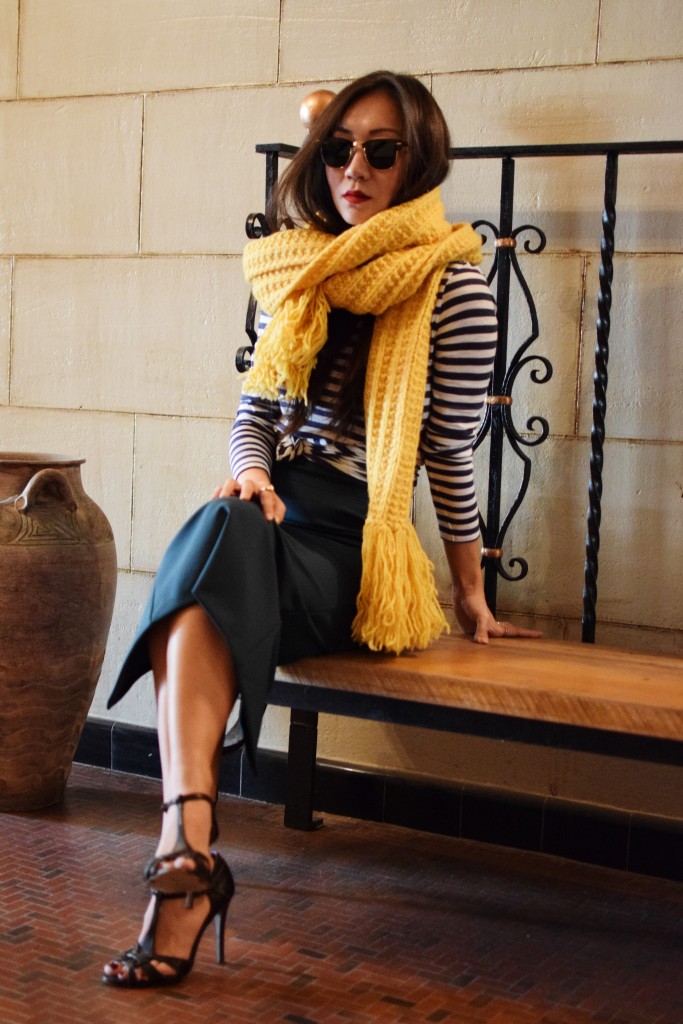 I am wearing an American Eagle Outfitters Aerie Long Sleeve Best T in Navy.  It's currently on super sale (less than $12), and I got a size XS so I can wear it fitted.  I love that it's long in the torso so I can still tuck it into mid-waist or low-rise jeans.  This shirt is also very comfortable and easy to wear with a faux-leather pencil skirt or ripped jeans.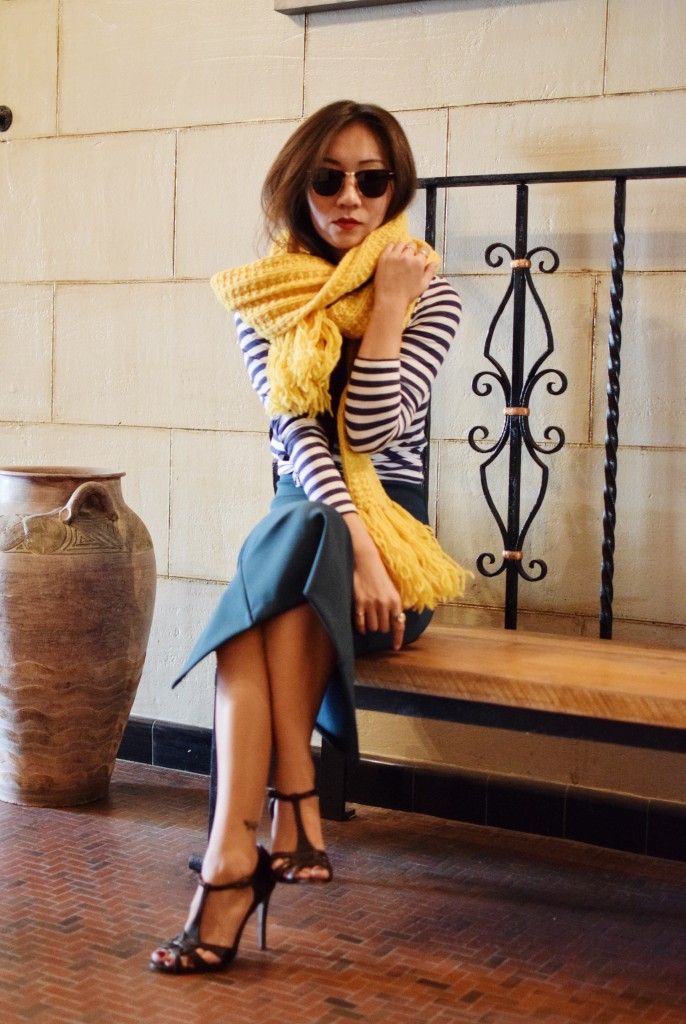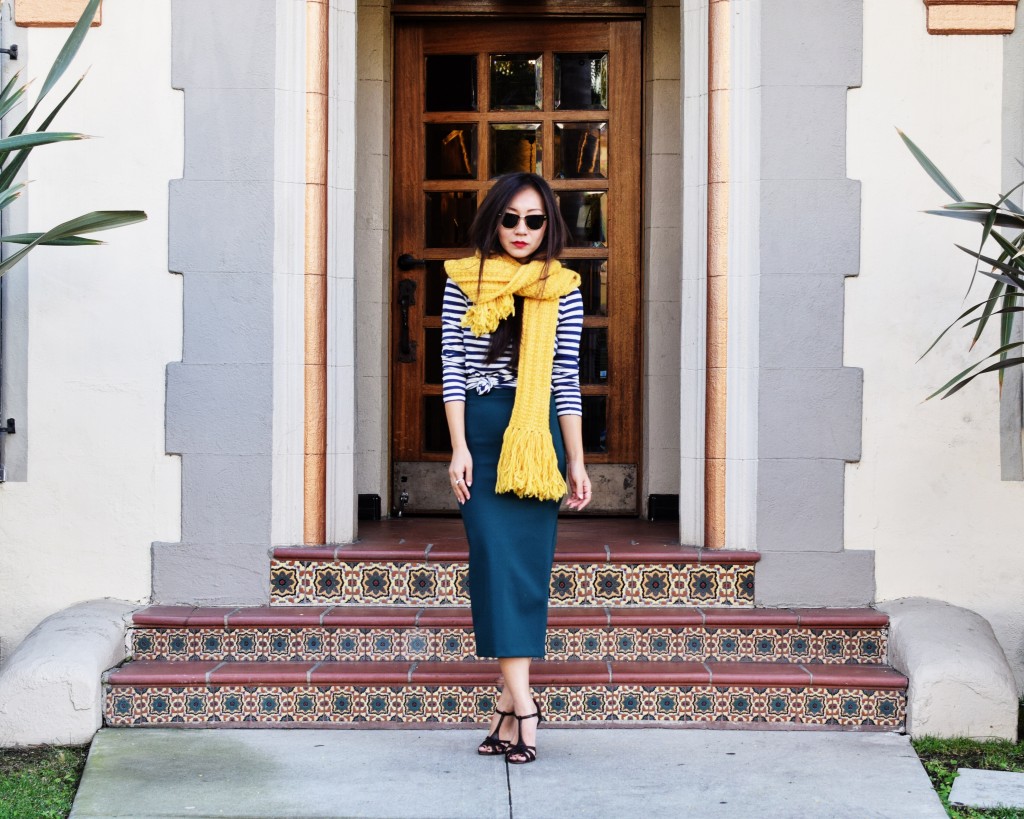 This is a H&M High-Waist Satin Pencil Midi-Skirt from their Trend Collection that I purchased earlier this summer for less than $50.  This skirt is very body contouring, but has a lot of stretch and pull to suck you in in all the right places.  It has a long zipper in the back that allows you to adjust how much movement you want in the legs.  I prefer keeping the zipper low to give that vintage 1950s vibe.  Unfortunately, this skirt is no longer available.
Here are similar looks:
ModCloth I'll Have The Usual Skirt in Pine
Charlotte Russe Ribbed Bodycon Midi Skirt (on sale)
ASOS Pencil Skirt in Cable Knit Texture
I am wearing an Abercrombie & Fitch Extra-Long Knit Scarf in Yellow that I purchased about six years ago.  I specifically chose yellow at the time because of my Alma Mater (Georgia Tech), but it's also my favorite color because it adds happiness to every outfit.
Everyone needs that one extra-long chunky scarf that they can wrap around and around their neck to stay extra warm and look extra fabulous.  Here are some similar looks:
ASOS Oversized Extra Long Rib Knit Scarf
Urban Outfitters Sherpa Eternity Scarf in Beige
Urban Outfitters Icelandic Rib Scarf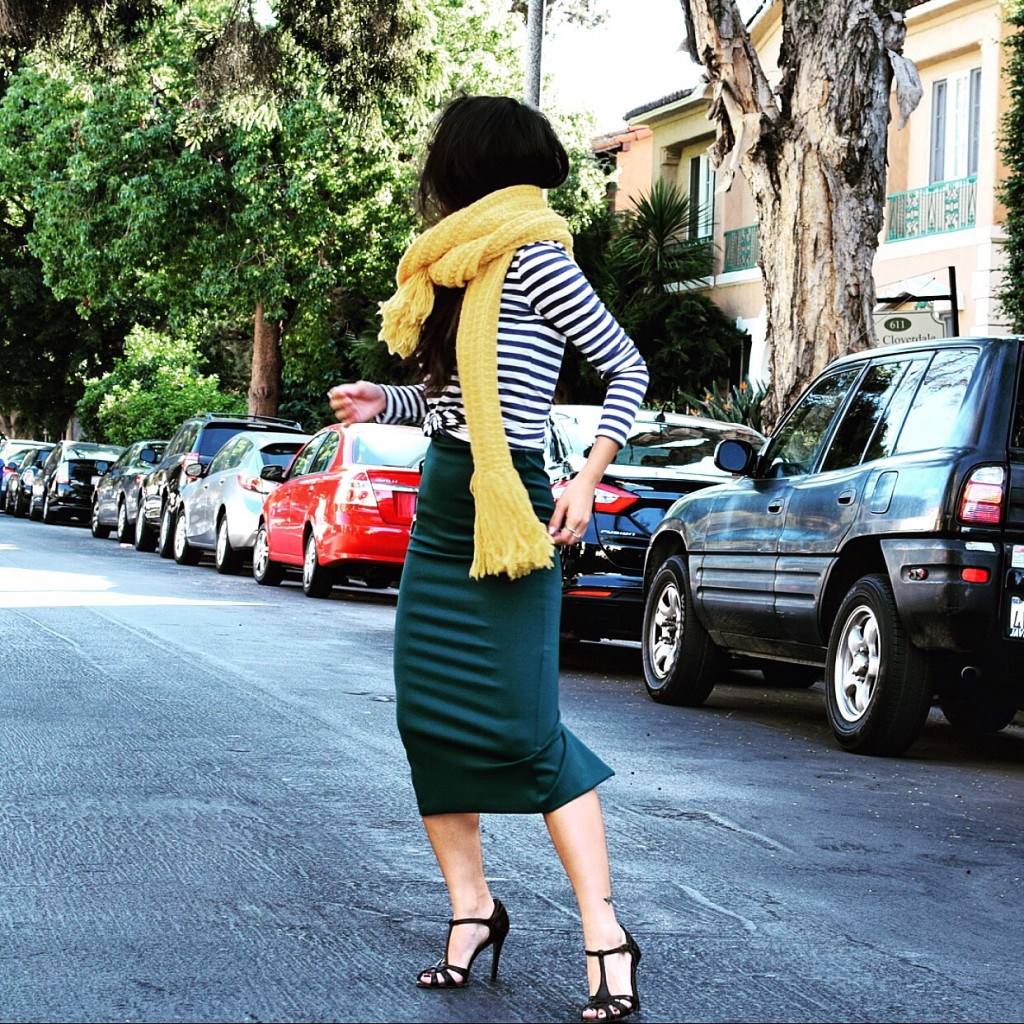 The mixture of texture, color and styles adds uniqueness to this look.  I recommend that you dig through your closet and just play.  Don't worry about whether or not you think something will match.  Just try it on and feel it out.  As I've mentioned before in my previous post, (Made In LA), my ratio for dressing is 1:1.  For every one fancy/trendy item, I pair it with one casual/classic item.
How did y'all like the array of colors?  Let me know!
Ray-Ban Clubmaster Classic Sunglasses / BCBG leather sandals (super old | similar look) / Rings (my own)
Photographed by Kelsey Morris