They say the best things in life are free, like this Stone Cold Fox Texas Tube Top in White.  Nope, this is not an April Fool's joke.  I seriously did get this top for FREE.  It was a freebie that the two creators of Stone Cold Fox passed out during their Moving Sale two weekends ago.  I would be passing out free goodies too if I had hundreds, if not thousands, of SCF fanatics drive to DTLA, wait in line for 4-6 hours in dreaded heat, just to score some fashion at sample sale prices.
Overall, it was a fun experience because I really got to know the girls waiting in line with me, and I went with my good blogger friend, Amy Zhang of The Luxi Look.  Plus, I scored this awesome tube top and another fancy thing that I'll be posting soon.  Here are some similar looks:
SCF Aries Tube in White (on sale)
Free People Tube Sydney Lace Top (on sale)
I'm wearing a pair of Genetic Los Angeles The Burke Trouser Jeans that I got a few years back.  They are so ridiculously comfy and light.  Great pair of jeans to wear for Spring fashion.  I know Mom Jeans and cropped, frayed skinny jeans are in right now, but I like to think outside the box.  Plus, I like the comfort of a pair of trousers.  Here are some similar looks:
Ulla Johnson Anna Wide-Leg Jeans
Current/Elliott The High Rise Neat Stretch Denim Trousers (pre-order)
NYDJ Claire Stretch Trouser Jeans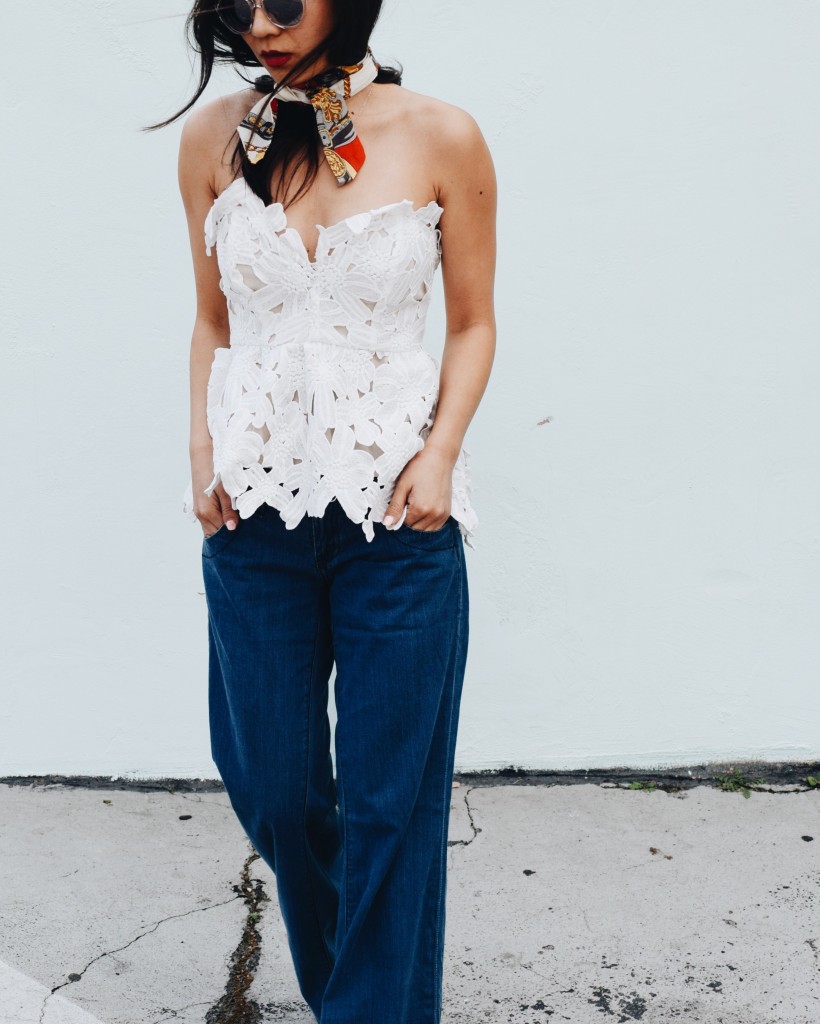 Quay Australia Isabelle Cat-Eye Shades / Neckerchief (no real origin; I found tied on a purse I purchased in Shanghai)
I dare to brave the chaos that comes with attending a fabulous sample sale, but waiting for 4 hours was the longest I have ever waited.  Do you have some crazy sample sale stories?  What's the longest you've waited in line for a sale?
Photographed by my dear friend, Danielle Torriero, co-founder of Effin Shop and owner of Daz Lashes