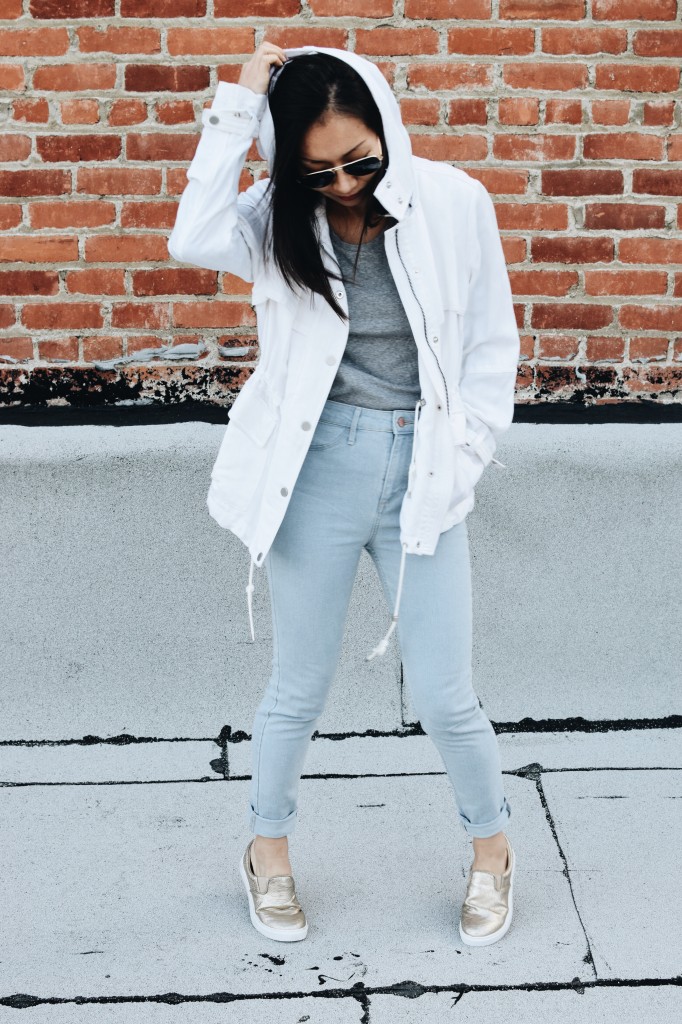 I've just went through an entire month of holiday parties, family gatherings and birthdays.  It's the weekend.  I just want to chill, relax, and watch some football.  No need to get gussied up for beer and ranch dressing, but I don't need to look like a hobo either.  The middle ground for these relaxing weekends is to dress comfortable, but throw on a pair of statement sneakers or a nice jacket over your t-shirt and jeans.  Comfy but classy.  That's my kind of weekend vibe.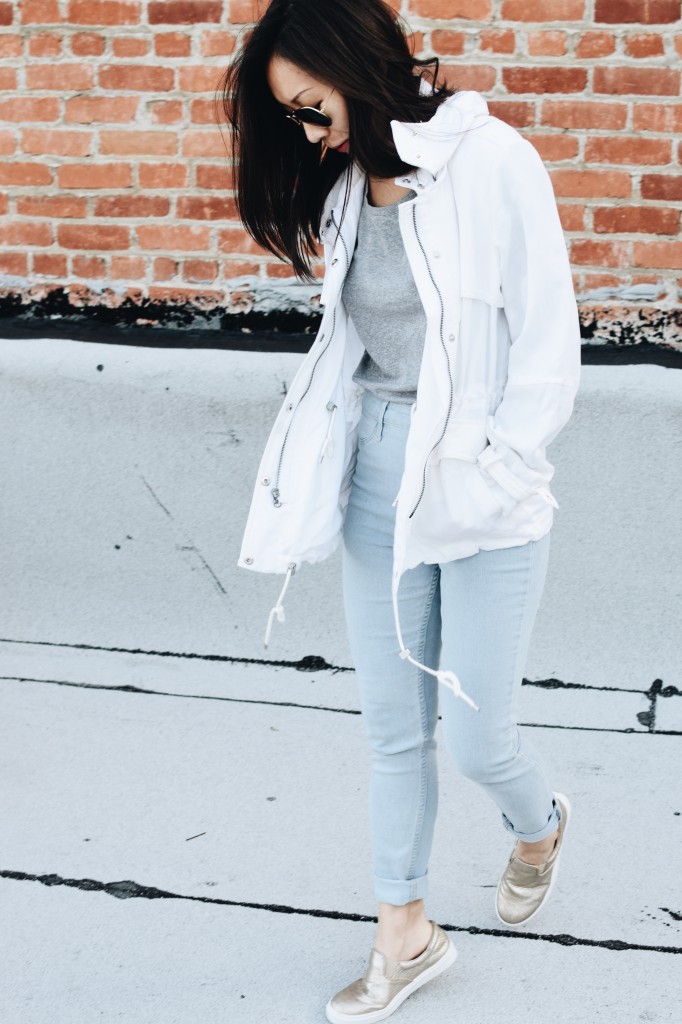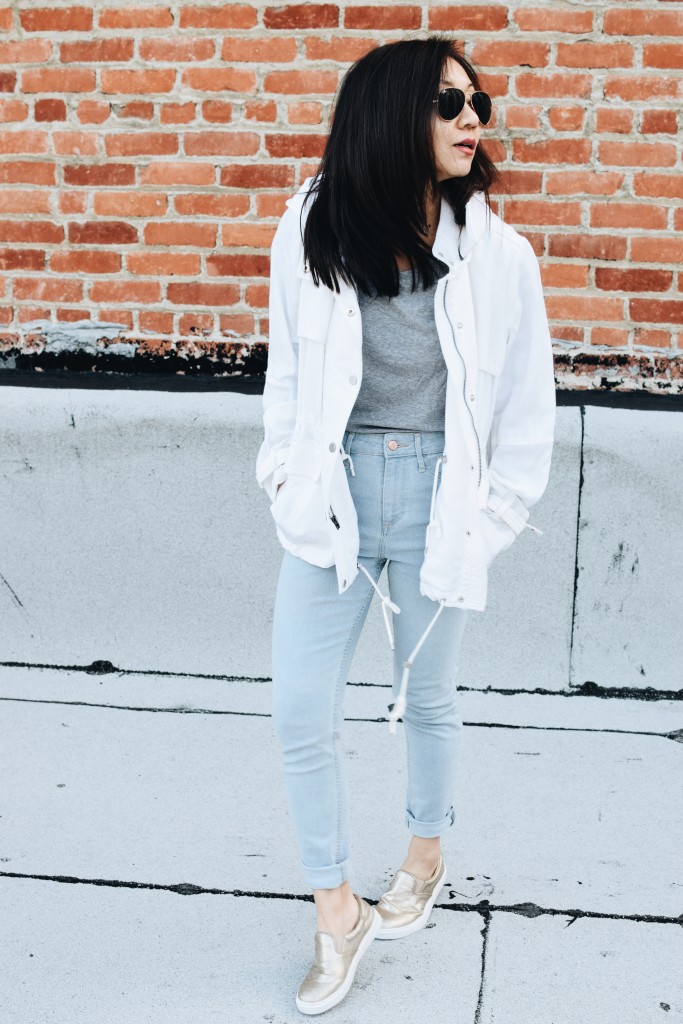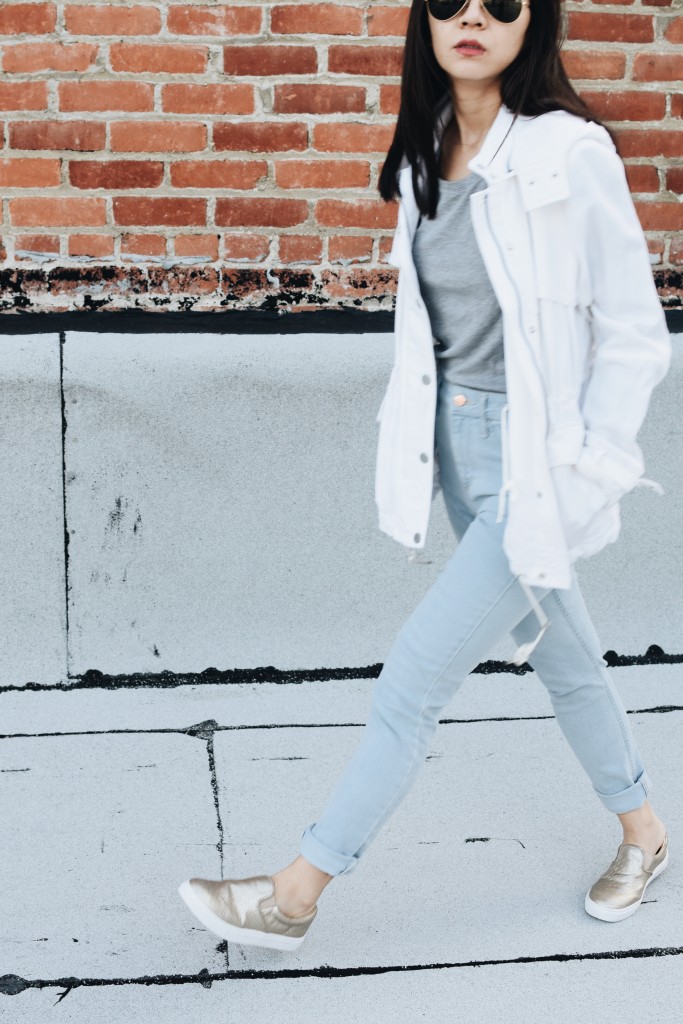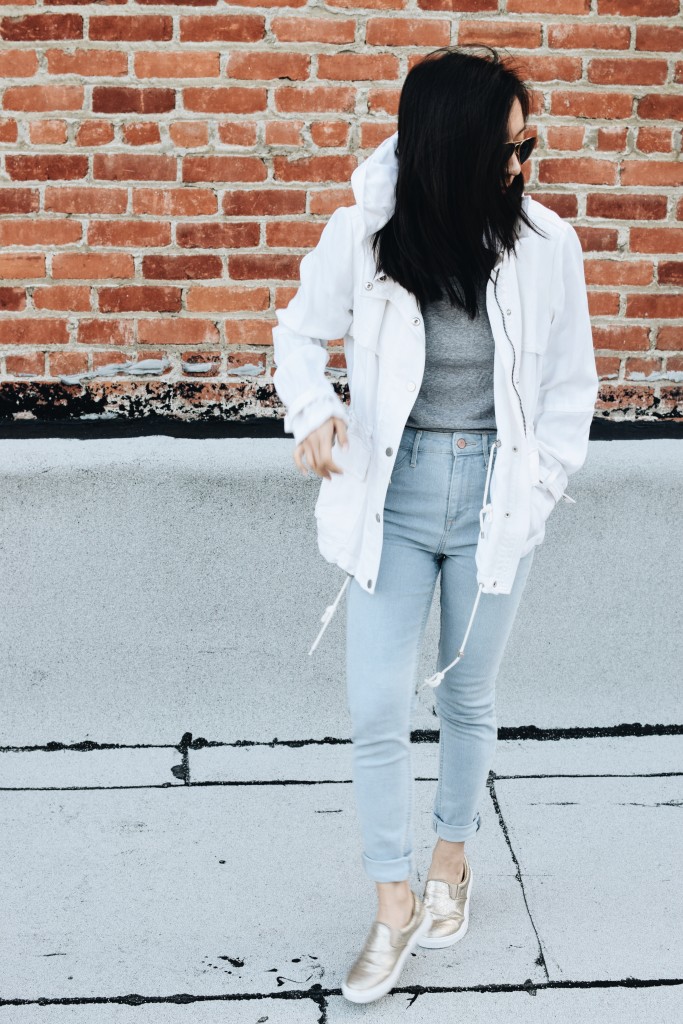 I was broke as a joke when I saw this Vince Luxe Short Anorak in White at Nordstrom, but it was love at first sight.  Plus it was on sale at the time, so I knew I had to buy it.  This jacket is EVERYTHING: pockets, hoodie, snap-tab zip cuffs.  It's very VERY comfortable, and it pretty much goes with everything in my closet.  (At least that's what I tell myself to make myself feel better about the purchase of yet another outerwear.)  This jacket is now sold out, but you can buy it off Ebay or here's a similar look, which is currently on sale.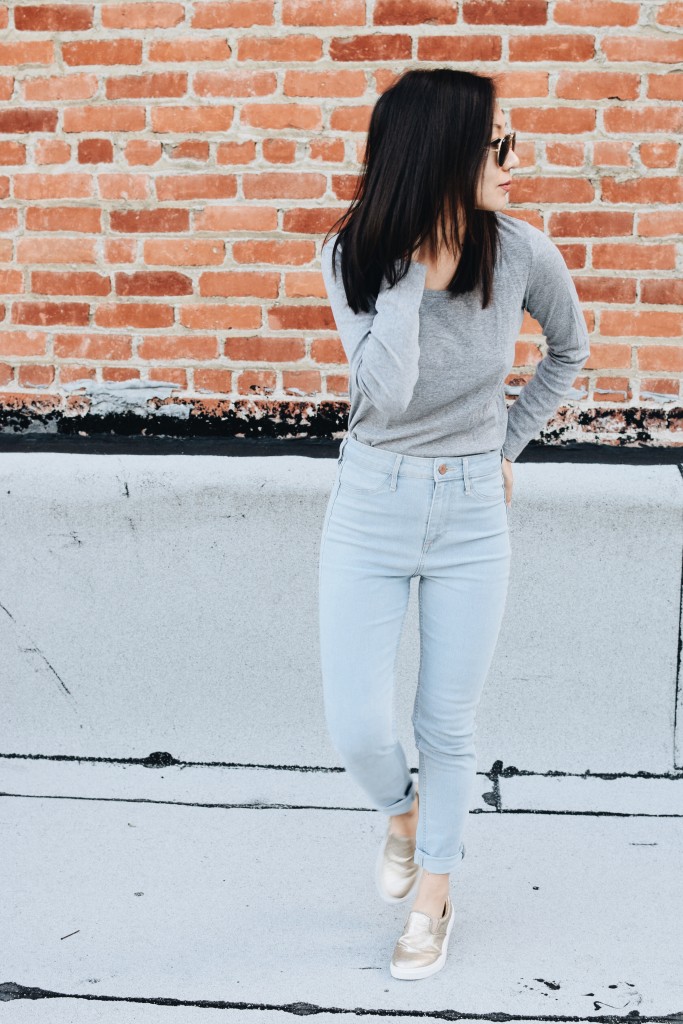 This is just a basic Uniqlo Supima Cotton Crewneck Long-Sleeve T-Shirt in Gray.  It's ultra comfy and I sometimes even wear it to sleep.  It's thin and fits under most shirts and sweaters.  I'm wearing a size Small for a more loose-fit look.  This shirt is under $15.  I would recommend getting it in all available colors because this will be your go-to tee.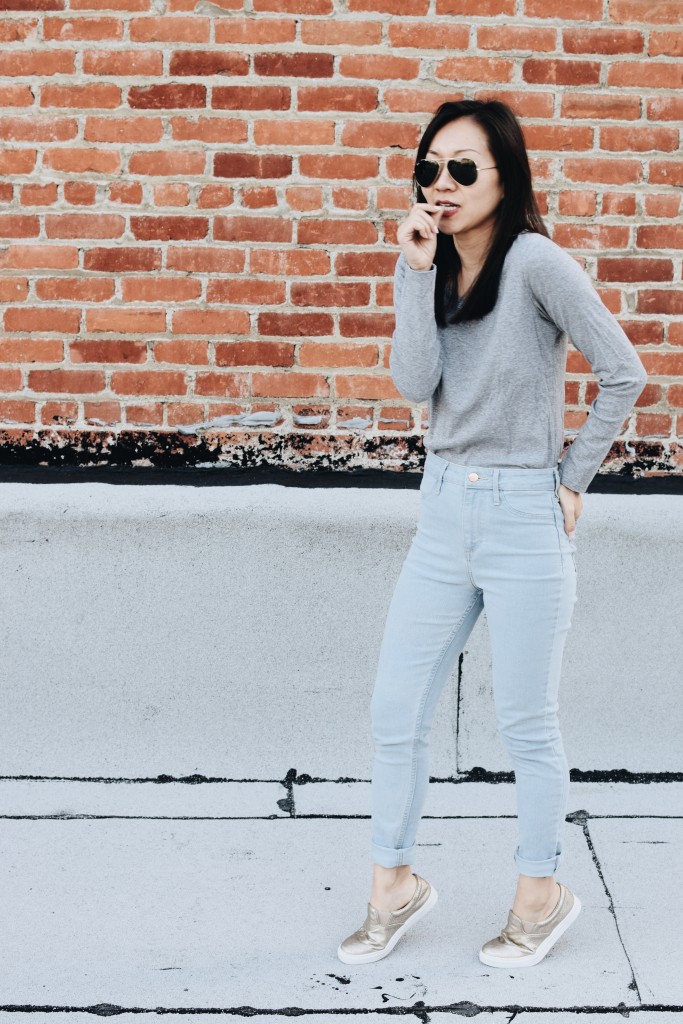 These H&M Hi-Waisted Denim were purchased last year and are no longer available.  Here's a similar look.
I got these super cool Material Girl Extra Casual Slip-On Sneakers Exclusive to Macy's over Christmas, and I'm just madly in love with them.  I wear them with sweats, denim, maxi dresses, and trousers.  They're metallic gold so they make everything look fancy.  Unfortunately, these are no longer available, but here's a very similar look that's also on sale.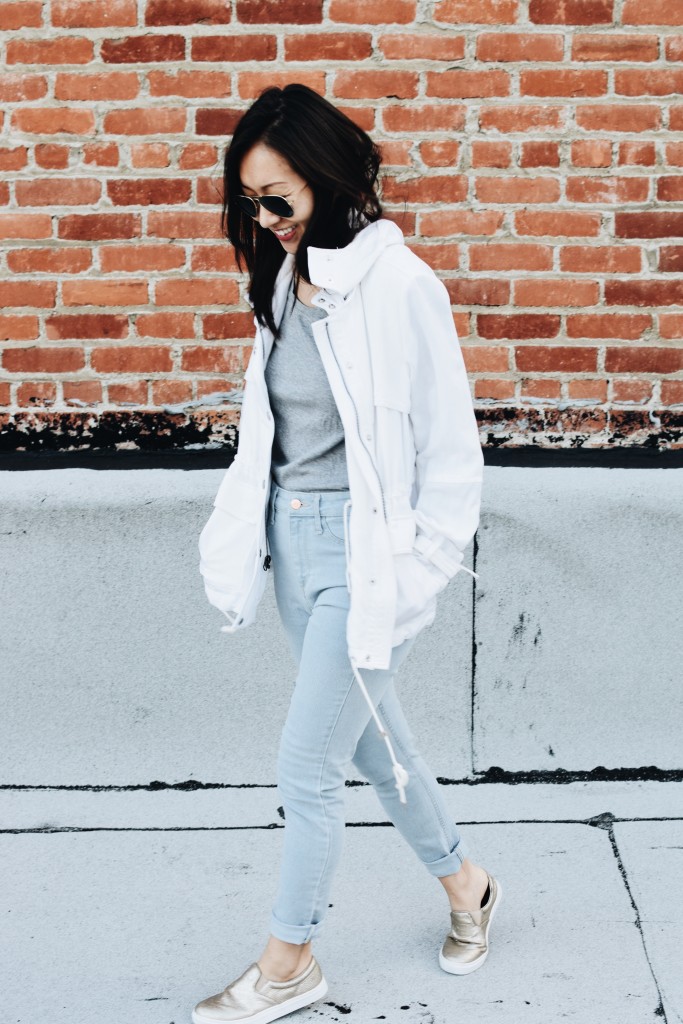 Ray-Ban Aviator Classic Sunglasses
Did anyone watch the college championship football game this past Monday?  Who are you cheering for the NFL playoffs?
Thanks for reading and let me know if you have any questions, suggestions or comments.  I make sure to read and respond to all my comments and emails.
Photographed by Kelsey Morris